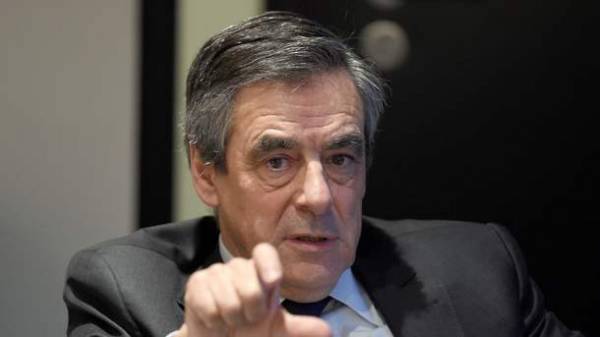 MPs-supporters of ex-President Nicolas Sarkozy demand that the presidential candidate ex-Prime Minister Francois Fillon took the responsibility had himself chosen his successor in the presidential race, reports the Agency "France-Presse", reports "RIA Novosti".
Earlier on Monday, Sarkozy suggested that the presidential candidate ex-Prime Minister Francois Fillon and former Prime Minister Alain Juppe, the three of us to discuss the possibility of exit from the crisis in the presidential election.
"The political line of the Fillon is correct, but it can no longer provide the unity of the political families of the right and centrists, we ask him to take responsibility and to choose a receiver", – said the Agency sources close to Sarkozy's deputies.
It is noted that they took part in the meeting with Sarkozy on Monday morning.
Earlier it was reported that Sarkozy and Juppe on Saturday evening and discussed possible ways out of the crisis with the candidate from the largest opposition party "the Republicans" Francois Fillon.
In this case, the Fillon on Sunday said he did not intend to refuse participation in elections, and there is no one to enforce it. Meanwhile, amid the scandal "Penelopiad" Fillon turned away many supporters and his rating dropped.
On Sunday, the head of the Provence-Alpes-côte d'azur Christian Estrosi said that the representatives of the largest opposition party of France "Republicans" in the near future intend to take the initiative on the situation with their candidate. It is likely that the right will offer instead of Fillon put the election of another candidate from "Republican" – for example, finalist of the primaries, former Prime Minister Alain Juppe.
He Juppe are expected Monday will make a statement on the situation in the presidential election.
As you know, financial news launched an investigation into cases of fictitious employment of the spouse of the candidate in presidents of the country, former Prime Minister françois Fillon. The investigation for the "theft of state funds, misuse of public property, complicity and concealment of these crimes, trafficking in influence and the concealment of this information from the authorities."
Lawyers Fillon, commenting on the investigation, expressed confidence in his innocence. They also criticized the investigation for leaks to the media.
On 25 January, the weekly Сanard enchainé ("the Chained duck") published an article alleging that for several years, Penelope Fillon was listed as an assistant to her husband, at a time when he was a member of the National Assembly (lower house of Parliament), for which he received remuneration in the amount of 500 thousand euros.
Later, the amount obtained by allegedly illegal means has increased to 900 thousand Euro, and accusations of fictitious work in his father was advanced to the son and daughter visit.
Comments
comments