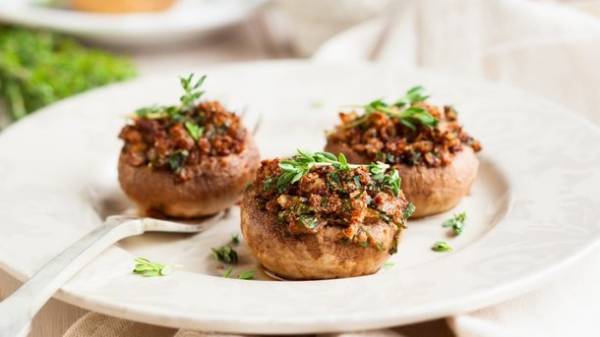 PUMPKIN STUFFED WITH QUINOA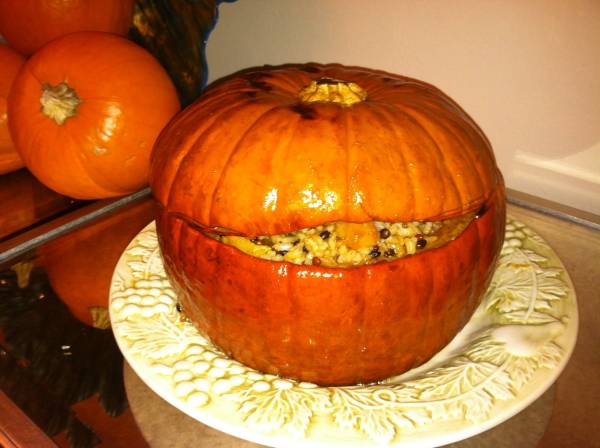 Ingredients (for 4 servings):
Pumpkin 1.5 kg
Quinoa (or rice) 120 g
Carrots 2 PCs.
The raisins 100 g
Onion 2 PCs.
Garlic 2 cloves
Coriander a few sprigs
Olive oil 2 tbsp
Salt and pepper to taste
Preparation (60 minutes):
Boil quinoa in boiling salted water, following the time indicated on the package.
Soak the raisins in hot water. When it swells, drain excess water.
Peel the onion, carrot and garlic. Onion and garlic finely chop. Carrots cut into medium cubes. Coriander finely chop.
With the pumpkin cut off the top and carefully remove the seeds with a spoon. In a heated with olive oil pan fry the onion and garlic. Then add the carrots, season with salt and pepper and cook for about 10 minutes. Remove pan from heat, add quinoa, raisins and coriander. Mix well.
Stuff the cooked filling of pumpkin, cover with top and bake in a preheated 180 °C oven 40 minutes.
MUSHROOMS WITH CRANBERRY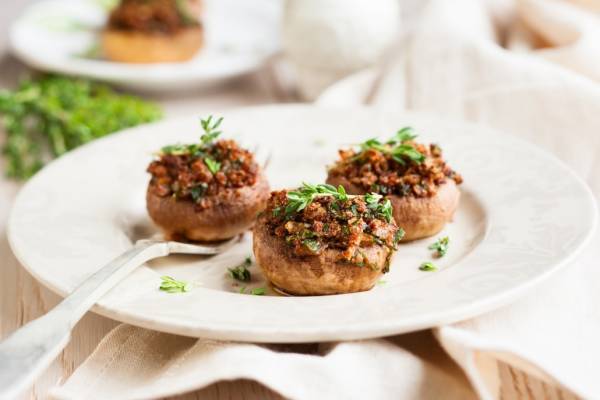 Ingredients (for 6 servings):
Mushrooms 450 g
Walnuts 1/4 Cup
Garlic 2 cloves
Olive oil 1 tbsp.
Shallots 1/2 Cup
The sage 2 tbsp.
Rosemary 2 tsp.
Thyme 1/4 tsp.
Sea salt 1/4 tsp
Ground black pepper, to taste
Dried cranberries 1/3 Cup
Wine vinegar 1 tsp.
Parsley 1/4 Cup
Preparation (60 minutes):
Preheat the oven to 200 degrees. Cover large baking sheet with baking paper. Remove the stems of mushrooms. In a food processor or in the bowl of a blender put 1 Cup of walnuts, chop 15-20 times.
Heat a large skillet over medium heat and add a little olive oil, chopped walnuts, chopped shallots, chopped sage, rosemary and thyme. Add salt, pepper. Cook 5-7 minutes, stirring frequently. Remove from heat, add the cranberries and red wine vinegar. Add salt, pepper.
Mushrooms nafarshiruyte the mixture, sprinkle with walnuts. Bake for 15-20 minutes. Garnish the dish with chopped parsley.
HOMEMADE MUESLI BARS WITH BANANA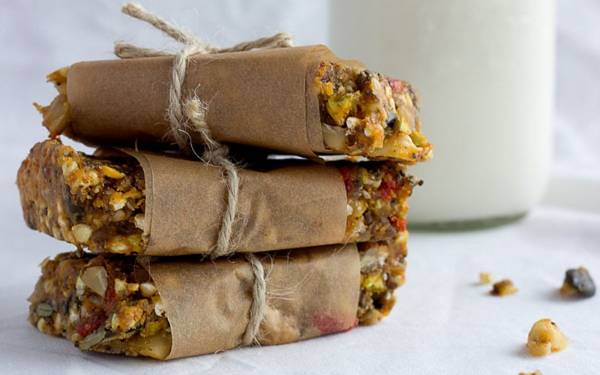 Ingredients (for 6 servings):
Cereal 170-200 g
Oat bran 1 tbsp
Dried fruit (figs/raisins/prunes/dried apricots) 100 g
Nuts, seeds (any) 80 g
Flax seeds 2 tbsp
Sesame seeds 2 tbsp
Banana (very ripe) 1 PC.
Peanut butter (natural without hydrogenated oil) 1 tbsp.
Honey (optional), stevia or sugar 1 tbsp.
Coconut oil 3 tbsp
Cinnamon 1 tsp.
Salt a pinch
Preparation (90 minutes):
Preheat the oven to 180 degrees. Baking tray lay a baking paper, evenly distribute the cereal and send them to the oven to dry for 20-25 minutes, they should become Golden brown.
Dried fruits washed and soaked for 15-20 minutes.
Grind half the nuts with a knife (not too finely). In the bowl of a blender combine the other half of nuts, dried fruit, peanut butter, honey, punch pulsating movements several times.
Tip: do not throw into the blender with all nuts and seeds at the same time (especially dark in color, for example, black sesame seeds and flax seeds — they better not grind): it can dye a lot of gray, and your bars will be unsightly).
Banana mash until state puree. In a deep bowl to send oat flakes and bran, nuts, powdered mixture from blender, flax seeds, and sesame seeds with mashed banana, coconut oil, cinnamon and a pinch of salt.
The mixture was thoroughly mixed, let stand for 5-10 minutes to flakes swelled. The mixture should be sticky but not very wet. If the mixture is dry, add a bit of water (can be honey or a couple tablespoons of oil). If, on the contrary, add another 1-2 tablespoons of bran.
To shift the mass on the baking tray lined with parchment paper (or silicone molds), tightly compacted. Bake for 40-50 minutes in a preheated 180 degree oven.
Removing from the mold, cool and cut the dough into small bars. After complete cooling they will be more dense and crunchy. They can be stored in the freezer up to 2-3 months, shifting each layer with parchment paper in a tightly sealed container.
Thank you for your recipes chef of project "Healthy Kyiv".
Comments
comments