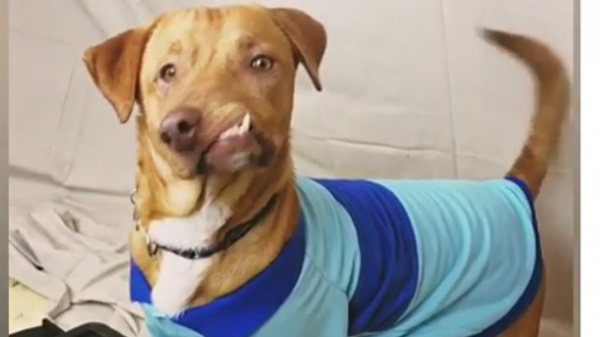 Dog with a wry face named Picasso became the star of social networking. He was devoted to the post in Instagram account Dogsofinstagram.
In the caption, the administration profile is addressed to subscribers with a request to adopt an animal. According to them, homeless Picasso was going to be euthanized, but the shelter staff Luvable Dog Rescue saved him and even found him a "normal brother" named Pablo.
ATTENTION OREGON! Someone please adopt this deserving pup! "Picasso was born this way and despite his funny looks he is happy and healthy. When a back yard breeder was unable to sell him and his brother they were dumped at a high kill shelter and slated for euthanasia. Luvable Dog Rescue saw Picasso and fell in love. They learned that Picasso had a "normal" looking brother who was also going to be are euthanized. Luvable couldn't leave "Pablo" behind so they decided to rescue them together. Both brothers are now safe and up for adoption at @luvabledogrescue in Eugene, OR." writes @kelly_beal_photography
"Despite the fact that Picasso looks funny, he is healthy and happy," they said.
It is noteworthy that the post about an unusual dog quickly became viral, gaining over three days and more than 122 thousand likes and more than 3.5 thousand reviews. The recording attracted the attention of social network users who instantly fell in love with an unusual dog.
"He's so cute! I'm so glad he was saved. I hope he and his brother will soon find their home," said one of them.
Took the boys to see Dr Kimball at Edgewood Animal Hospital today!Dr. Kimball had the same conclusion about Picasso as Dr Williams at Four Corners Vet Clinic – Picasso is healthy and not suffering from his birth defect. However, he does have a canine tooth digging into his lower gum due to the misalignment of his jaw that probably does hurt and should come out.I'll post some close up photos, because it's really interesting and weird looking!when he's under anesthesia the doctor will take some X-rays of his muzzle and jaw to be sure everything is ok in there!!!We received an estimate of $800-$1000 for Picasso's surgery. A few of you have sent donations, and we are so grateful to you!As you can see, Picasso is an incredibly happy, loving dog.We will keep you all posted on how he's doing @luvabledogrescue And yes, we have had hundreds of inquiries on him and we will try to get back you you all as soon as possible! #BornThisWay #wonkyface #rescueismyfavoritebreed #pitbullcorgimix
As noted by the employee Luvable Dog Rescue, now Picasso awaiting the conclusions of veterinarians who must determine the best method of surgical treatment. He also noted that the shelter had received many requests of people wanting to pick up the dog as soon as he recovered from the surgery.
Comments
comments