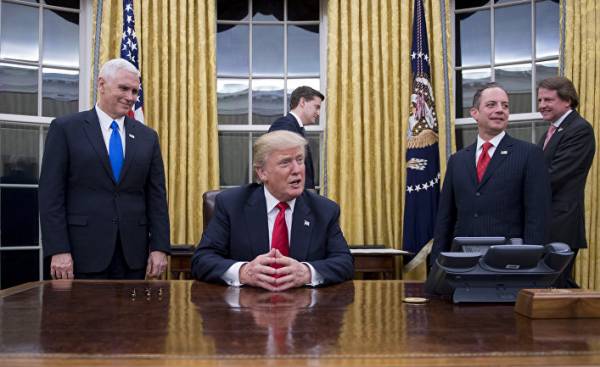 Breitbart News Network (BNN): First of all I would like to know your reaction to last night's Oscars — the biggest mistake that was made when announcing the best films. What do you think?

President Donald trump: They are so focused on politics that in the end they had a complete mess. It was a little sad. Gloss Oscar subsided. It was not a very bright night. I have been to this ceremony. This time, something much missed, and ended up as something sad.
BNN: I'd like to talk about "opposition party" — on media…
— Well, it's not the media. This is false media.
BNN: that's what I like about it…
— There is a difference. Lying media is the opposition. Lying media is the enemy of the American people. Such false media we have a huge number. They make up Grand fake stories. The problem is that not participating in this fraud people do not know that it is cheating.
Hope Hicks: the fact that they didn't pass it exactly proves your point.
— That is not conveyed accurately?
Hope Hicks: They said, "Oh, Donald trump said that media is the enemy of the American people."
— Correctly. They removed the word "false". They said that the media is the enemy of the American people, but did not mention the word "false". And I'm not saying that the media is the enemy, I said "lying media". They take one word and suddenly it turns out that I'm against such great reporters like you. I know some great and decent reporters, which perfectly do their job, say Steve [Holland] from Reuters and others, many others. I was not talking about it. I talked about the lying media who invent everything that can be invented.
BNN: Yes, I just wanted to talk about this with you, because I know that you very clearly stated this at the Conference of conservative political action. Could you more specifically describe the standards and quality that you expect from reporters?
Intent. And again intention. If you read the New York Times — intentions are evil and bad. The article is largely erroneous, but it is the overall intention and purpose. View this newspaper over the past two years. In fact, they had to apologize to their readers, because they are completely wrong with the elections. They posted on the first page of an article about women who were talking about me. These women came just in rage when I saw that printed is not what they were saying. And this was a great article on the first page, and the New York Times even apologized, though he was wrong. You've probably seen these women. They were on TV and all that.
BNN: Yes, for the New York Times it was a very awkward situation.
They said, "We really like Donald trump, and he [a New York Times reporter] got it all wrong. He stated that he will speak good, but in the end there is only one bad". It was an article on the first page, it took almost a half turn the New York Times, and it was fake. It was a fake. They apologized? No. I call this the failed newspaper the New York Times, because she writes the truth. She writes the truth. No one would know about it. For example, when people read this story about women… first, the reporter who wrote it is there a web site that spits with hatred for Donald Trump. He shouldn't be allowed to work as a reporter, as it is biased. It's not everything, but a lot about Donald trump negatively. He could not afford to write about Donald trump. And he wrote. And that's just one article. If you read the Sunday New York Times, there is hit after hit. Honestly, I think people have it all figured out, because ratings from the Newspapers went down. You know, they just do not. The acceptance level is very low.
BNN: During the election campaign, you and many of the people on your staff, such as Peter Navarro (Peter Navarro), said that it is necessary to destroy this oligopoly in the media. If you look at the media, the problem is that the overwhelming majority of media companies in a small handful of people. It seems, comes the merger of AT&T and Time Warner. I would like to know what you think about this, and also on CNN with her disgusting behavior. Obviously, they are not willing to improve. In this regard do not arise if you have doubts about the deal?
I don't want to comment on any specific deals, but I think that the market should be competition, especially in the media market, because it would be terrible if after all these years there will be only one voice. I do not comment on any deals, but in General the competition is necessary, especially in the media.
BNN: Tonight is the first time you deliver a speech before both houses of Congress. This is a great speech. You could in General say, what can we expect?
— We will talk about health care. We will be talking about health care reform Obama, we are going to talk about the failure known as health care reform Obama, because she turned into an absolute and complete failure. We are going to talk about taxes. We will be talking about the economy as a whole. We will be talking about the armed forces and the spending on the armed forces and on the border. We will touch on many different topics — and I must stress that I inherited a mess. It's a real mess, whether we're talking about the middle East or about Obamacare — where spending is out of control — or about any other issues. The situation is very much different from what people imagined, and they know it. We intend to fix it. The most important thing is that we're going to fix it.
BNN: If you select multiple things, you first need to call the inherited chaos. I can cite a couple of examples of what is this chaos?
Middle East chaos. North Korea stepped on very dangerous territory. North Korea is a disaster. Our border is a perfect mess. Our trade agreements are worthless — worthless. It seems like the negotiations to their conclusion that the kids were doing. We will fix it. Health care reform is very bad, and exceeding the reach 116%.
BNN: You mentioned the increase in the share of military spending in the budget. There is information that military spending can be increased in the amount of from 54 to 84 billion dollars…
— I can't give you specific numbers, but I want to significantly increase our military spending. We need to do it. Our army is depleted. Our equipment is out of date, but we will have the best army of those that were in the United States for their entire history.
BNN: it seems that the focus will be on national security — the budget of the national security system.
— We will have a powerful national security system. We will have the best weapons, the best army of those that we have ever had, and it will be the best in the world.
BNN: Now, when you take the post of President of the country already — let's see — a little more than a month, I would like to ask you a) on the construction of a wall on the border and b) the implementation of immigration laws, similar to what we proposed to the Ministry of internal security.
— We will have a wall. Work for its establishment ahead of time. We will have a wall, and it will help us to stop the flow of drugs that poison our youth. She hurt to get to us the people not to come to us. We have this wall, and work is already underway ahead of schedule. General Kelly really need it, all need it.
BNN: In continuation of the theme of the wall. There are transnational criminal organizations that operate in Mexico and that trafficked drugs in the United States, promoting illegal immigration, human trafficking and so on. Recently we have seen reports that members of the cartel-related group MS-13 trying to distribute drugs, even among the younger students here in Washington. Last week this was reported by the local newspaper. I would like to understand what kind of action will be undertaken in this direction…
— You have already seen the first steps. Look what the General did Kelly. He saves the country from the bad guys. We focused on the criminals. He took on criminals, and now they leave, quickly leave.
BNN: the Next thing I would like to ask you — you mentioned health care and tax reform. Tell us, what will be the timing and sequence of actions in these two spheres, as well as what tax cuts can we expect?
— We are moving very quickly. On the health care system I will speak in detail tomorrow, including about the timing. Tax reform will be implemented after health care reform, because from the point of view of the budget of such a course of action more appropriate. But we are moving very successfully in budget issues and health issues and reducing taxes. Tax cuts will be very significant and will affect both enterprises and ordinary citizens.
Comments
comments