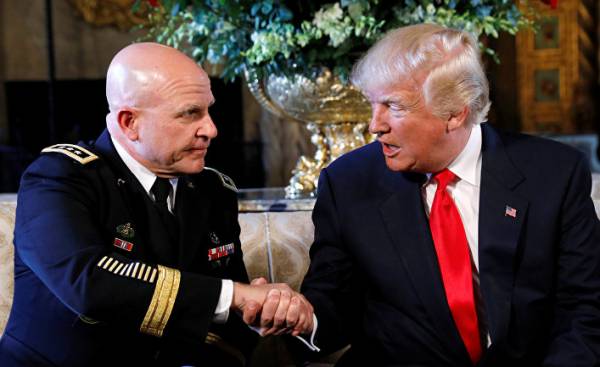 The replacement of the national security Council Michael Flynn at the Herbert McMaster (both are generals) is the United States only benefit.
New military entrants, is considered one of the leading American strategists with experience fighting in Afghanistan and Iraq. More importantly, we are talking about a man known for his frankness and willingness, if necessary, to repel their own boss.
These qualities are especially welcome now, when the helm is Donald trump, who, to put it mildly, has a rather weak notion of international relations.
The outgoing General, who although considered a professional, suffered a kind of obsession against Islamic extremism, which was unproductive. He was removed from office after the FBI recorded his phone conversation with the Russian Ambassador, the contents of which Advisor was initially denied.
Although this episode was for the benefit of the new government, he has raised doubts — including among Republicans — about the relationship of the President of Russia Vladimir Putin.
There are suspicions that a Russian hacker group of specialists on the invasion of an information system in the electoral campaign for the benefit of trump distributed as appropriate, and any false information to harm his opponent, democratic candidate Hillary Clinton.
There — warning signs of ties between trump and Putin, which might be closer than we think. An American President who shamelessly criticizing the leaders of the allied countries such as Mexico and Australia, at the same time with unusual delicacy speaks about Russia, which opposes U.S. interests in various parts of the world.
However, I can say that this position is Republican due to the mixture of true admiration for the Russian President and the similar way of thinking — an obvious tendency to authoritarian populism that Putin is unashamedly puts into practice.
In ideological terms, as noted by the columnist of Folha Demetrio Magnoli (Demétrio Magnoli), both are fighting against globalization, acting in the spirit of nationalist nostalgia.
Whatever the reasons, the fact is that American values are incompatible with the autocratic methods of the Russian President. The new Alliance between Washington and Moscow move forward without prejudice to such principles as the respect for democracy and human rights.
McMaster at the head of the Council for national security increases the likelihood that someone will say this about Trump. However, this is unlikely to have any effect.
Comments
comments