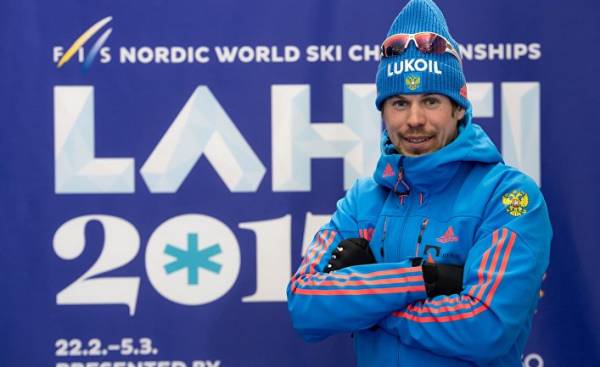 Here is a predator with eyes of a deer.
Evil. Furious. The eyes of a killer. Friends caught doping. Independent and invincible. Predator.
To 24-year-old Sergei Ustyugov on the world Cup ski races attracted the attention of many media, he was the real star of the championship. But Russian whose home is nicknamed "Moose", is not only full of contradictions "powder keg".
The Ustyugov many positive qualities. If he's in a good mood, his smile fascinates everyone. His laugh warms the soul. He has a great sense of humor. And love that double world champion radiates in its best moments, captures all.
But on the first and third ceremonies in which Ustyugov today participated in Lahti, we have observed something, in sharp contrast with the above. After he won silver in the sprint, he was angry, took off his medal and left the stadium earlier than everyone else. And his eyes were the eyes of a killer, according to Petter Northug.
"Ustyugova misunderstood"
But at the awards ceremony on Sunday, the smile he had from ear to ear. He laughed. After one of his numerous interviews Dagbladet ended, he went to his Russian fans took at the hands of a completely unknown Russian children, raising them high in the air.
"As a rule, the man is such. It's very simple, pleasant and good-natured with those around him. The company Sergei is very nice. It a little not so understood in other countries, because there cling to those moments when he's angry or disappointed," — says Nikita Kryukov in an interview with Dagbladet.
Hooks took with Ustyugov gold in the team sprint on Sunday. Hooks — one of those Russian that are always smiling. Ustyugov — Russian, which resembles an early edition of Northug. The instinct of the winner makes it in the competition into a wild beast. Sometimes it is even too. And he is very cheerful and warm people.
"Sergei is a typical winner. He's probably even a little too obsessed with this. But, maybe that's why he's the best," — said Kryukov.
He didn't want to go to the awards ceremony
We saw it during the sprint at the world Championships last Thursday. Federico Pellegrino (Pellegrino Federico) put the Russian in place. Well, that "silver" would be good, too, decided many. But not the main character. At a press conference he was sitting, his head bowed and resting on her hands. And at the medal ceremony, he was still furious.
"Yes, it's true. I didn't understand, what's the point to participate in the ceremony: to accept the silver medal? I didn't want to draw attention to myself when I lost. Because I wanted to win the gold," said Ustyugov correspondent Dagbladet.
"Gold" in the championship he has won twice. First, once won a duel with Martin Sundby Johnsrud — after he broke his stick. And then he led the Russian team to victory in the team sprint when he fell Iversen Emil (Emil Iversen).
The gold he found at home. Her name is Elena Soboleva, she's a girlfriend of Ustyugov. And they found each other where Ustyugov feels best: at the track. Best score Soboleva — 9th place in the competition of the world Cup. Ustyugov on the stages of the world Cup was won 11 times, he has two gold medals at the world Cup and an amazing win in the overall standings at the Tour de Ski.
"Elena really means a lot to me," admits Ustyugov.
Frightening figure
And don't forget age: 24 years. In a sport like ski racing, when vital endurance is still very small. Martin Jonsrud Sundby was five years old when he became the best in the world. Probably Ustyugov will be able to achieve anything.
"In the future to defeat Sergei will be possible, but this would be very difficult. Always someone who wants to challenge the best. However, I think that Sergey will continue to grow. He can become almost invincible. But you also have new talent is growing up — Johannes Chestnut Clabo (Johannes Høsflot Klæbo)," says hooks.
In this Millennium, Norway had won all the men's relay. Tomorrow is the Golden rule may be broken. Not country, but one person: Sergey Ustyugov. He would have done it for Russia when other Russian stars such as Alexander Legkov and Maxim Vylegzhanin — suspended from participation in competitions.
"Our strong riders stayed home, so we don't have much chances to win against Norway in the relay. We have one hope: that hope's name is Sergey Ustyugov. He alone can make our team win, despite the fact that many are not allowed to participate in the competition," says hooks.
Will run for the whole country
Ustyugov told reporters Dagbladet that will participate in the relay, and the race to 50 kilometers, although he and coach Markus Cramer earlier this season claimed the opposite. Now he feels that he is strong enough and wants to win the first 50 miles in his career this Sunday.
"Would be cool, but nothing is impossible. I will be running for the whole country," — said the guy feared all of Norway.
After Ustyugov won "gold" in the championship on Saturday, he thanked Yevgeny Dementyev, previously disqualified for the use of EPO for the help and tips that he gave on the eve of "Golden" race. This caused a negative reaction. Ustyugov does not understand.
Supports Bergen be reprimanded
He just wanted to pay tribute to his good friend, and so did Marit Bjergen against Therese Johaug after his triumph.
"We all have someone who played an important role in the fact that they were able to succeed. Nobody can achieve anything alone. To think that this is possible is crazy. And it's just crazy to criticize us for what we want to share important moments with people close to us" — says 24-year-old athlete.
Yesterday, he had allowed them to compete without it. But in the relay on Friday, he again rush into battle and try to win it for Russia.
And he can do it. Sergey Ustyugov. "Moose" from Russia.
"In Russia, I have the nickname "Moose". I don't know why, but I was for many years the so-called" — says a predator with eyes of a deer.
Comments
comments