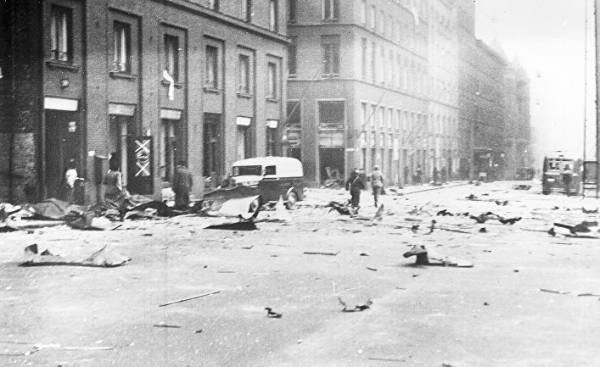 "What a tremendous feeling when your research begins to move," the deep sighs Ruotsalainen, Heidi (Heidi Ruotsalainen, 31).
"The intelligence system is hard to learn. Lost a lot of data, or initially everything was thought out so that others can't get this or that information."
Ruotsalainen writes a dissertation on military history in National defence University of Finland (Maanpuolustuskorkeakoulu, MPKK). The object of the research is the system of military attaché in the years 1918-1939.
"I have been studying this question since Finland gained independence before the start of the wars."
Military attache officer, who works in the representation of their country, liaising with the military forces of the country and is responsible for military issues of representation.
Half of his working week Ruotsalainen holds in the National archives of Finland. The other half she spends in Santahamina.
"I promised my husband that weekend I will be free, but I couldn't keep that promise."
Ruotsalainen thinks, when she asked her why so much interest is military history.
"It's hard to explain. I was always very much interested in history and military history. I was interested in these issues while still a child."
One of the sparks that reignited her interest was who lived next door with grandma and grandpa former commando and later an agent of NATO Kolehmainen Lauri (Lauri Solehmainen), who left her a legacy of many materials. So there is a thesis to the University of Eastern Finland, and later the book "Agent of the cold war" (Kylmän sodan agentti, 2013).
"Probably so, I started to get involved in military history. This makes me very interested".
Ruotsalainen says that her grandfather participated in the war. He liked to say with a little girl about the war and about what was happening at the front.
"That's was friendship. That's probably why I grew up so weird," she laughs.
"And as a child I loved to climb trees and run through forests".
Ruotsalainen didn't serve in the army. She later regretted that I did not go to the army because it would make it easier to understand the life of the military.
"I think I would have liked".
Civilians can be trained at the National defence University of Finland since 2012. Now 93 people applying for a PhD. Including both civil and military.
− What You study and conduct research at the National University of defence of Finland?
"It's like a dream come true. At first I was a little hesitant, what would it feel like in that environment, but I really like it. Especially the fact that I can do only one thing. Previously, I had to teach, and write."
According to Ruotsalainen, the military history at the University of defence are involved 20 researchers who meet once a month at the workshop. She is the only girl and civil man, who deals with issues of military history.
"For girls, which deals with such matters, it is the task of a lone wolf. Now I have a little study. My own research takes up all my time."
Ruotsalainen explores how in the newly independent Finland was a system of military attaches. If they can see the impending crisis of the 1930s?
"I'm not that far advanced in this matter so deeply to understand it on the basis of all sources. I would say that of course something similar was already planned. I have the impression".
Ruotsalainen believes that the Finnish system of military attaches could be built on the Russian model.
The basis for this opinion is that the system created by the head of the General staff, Enkel Oscar (Oscar Enckell), who made a remarkable career in the Russian army, including in intelligence and in the post of military attache.
A particularly interesting object to study is the military attache, who worked in Moscow. For example, it is known that in the years 1936-1938, they led a spy network, which for some reason was suspended. The reason could be, for example, strengthening the work of counterintelligence of the Soviet Union.
"I was trying to figure out what made a spy network to stop working at a time when it was needed most. The military attaches were in Moscow under scrutiny. It was hard psychologically."
Ruotsalainen wrote in collaboration with Coconino Matti (Matti Kosonen) the book "women of the intelligence of the school" (Agenttikoulun naiset) of the school of intelligence, which operated in Petrozavodsk during the Soviet-Finnish war of 1941-1944 ("the continuation War"). The role of women have not been studied in sufficient detail.
In school exploration of Petrozavodsk, or OU Raski, trained agents, which are then sent to the Soviet Union.
Agents were recruited among the prisoners taken by the Finns. The school was directed by mayor Reino Raski (Reino Raski).
In spy school about ten women performed the tasks of translators, communicators and copyists of documents. Most of them were Lotte.
"Typical of Lotta pretty good command of the languages, obviously, had a high school education and belonged to the higher strata of the middle class," says Ruotsalainen.
Lotta had a great idea of what was happening in the school agents, and at all in intelligence, because they rewrote the reports of spies and other secret documents.
"Grab Lotte would be for the enemy a huge success. Therefore, women were taught to shoot several types of weapons. Lotta was to be able to protect themselves," says Ruotsalainen.
"I sometimes wonder: did these young girls, in what a precarious situation they were in."
School of intelligence in Petrozavodsk was an important target for enemy intelligence. The red army was planning its destruction. Ruotsalainen recalls that the women had to decide how to act if they get captured.
"Lotte each need to decide for yourself in advance what to do in such a situation: to commit suicide or be captured alive. Probably, they were so young, that you were not afraid and did not think about what might happen something bad."
− Does the Lotte recognition for your work?
"I think that in this division women are sure to receive appreciation and recognition for the work done, but sometimes the stick. However, in the postwar years the emphasis was on the role of men. Probably because back then, women didn't want to talk about something".
School of intelligence in Petrozavodsk was a unique place where professionals working.
"In the Division Raski trained military, and to have a relationship with the girls was forbidden at any level," says Ruotsalainen.
"Of course, was born a friendship and love and all that is in this situation could be born".
Education Ruotsalainen historian and teacher, working with children with special needs. At the moment she is on unpaid leave and not working as a teacher in Espoo.
"I like teaching and love children. With them very interesting. I worked with my students to their first class, and next year they will go in the sixth grade," she says.
"I'm sure they all will be well. Children with special needs to study hard. Nice to notice when they have something starts to happen".
Ruotsalainen recognizes that, although teaching does have its interesting moments, military history is now interested in her anymore.
− Why women are not very interested in military history?
"I don't know. I think it's very interesting. I'm not weird, I'm pretty normal. Except that she was born in Savo".
Comments
comments