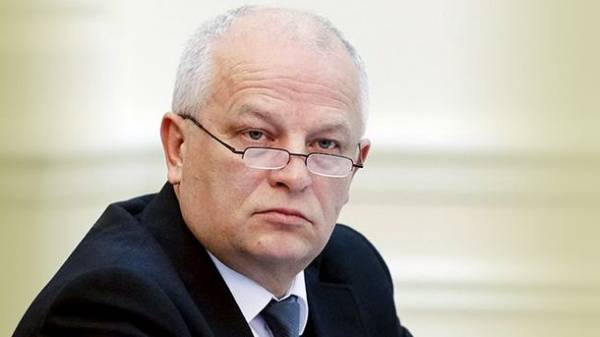 First Vice Prime Minister – Minister of economic development and trade of Ukraine Stepan Kubiv during a meeting in Brussels with European Commissioner for European neighbourhood policy and enlargement Johannes Hahn discussed the need for a ceasefire in Eastern Ukraine and the liberalization of the visa regime with the EU.
"EU sanctions remain one of the most effective mechanisms to deter Russian aggression. We look forward to further EU support, including the provision of additional trade preferences for Ukraine," Kubiv is quoted by the press service of the Ministry of economic development and trade of Ukraine on Wednesday.
He also stressed that Ukraine expects the solution of the visa issue, because its part demonstrates how macroeconomic stabilization and progress in reforms.
Deputy Minister of economic development and trade of Ukraine – sales representative Nataliya Mykolska, who was also present at the meeting, noted the importance of the early adoption by the EU institutions of the package of additional trade preferences for Ukraine. At present, relevant legislative proposals of the European Commission discusses the European Parliament. "Hope for the support of MEPs" – said Natalia Mykolskiy.
In turn.Khan assured that the EU fully supports Ukraine and welcomed the ambitious reforms conducted by the Ukrainian government in social, economic and commercial sphere.
"In the EU we see how Ukraine is working resolutely to strengthen the economy of Ukraine in the current difficult conditions… Our main goal is to help stabilize the situation in Ukraine", – said Khan.
The Ministry notes that in 2017 Ukraine plans to start several EU assistance programmes to support reforms under the Association agreement (30-40 million euros); on the rule of law (of 52.5 million euros); energy efficiency (80 million euros); on the management of public finances, including customs and tax reform (25-50 million); rehabilitation and socio-economic development of the Eastern regions of Ukraine (25-50 million euros). In addition, Ukraine will continue consultations with European partners on the preparation of the new multi-year strategy of assistance to Ukraine from the EU in 2018-2020.
Comments
comments