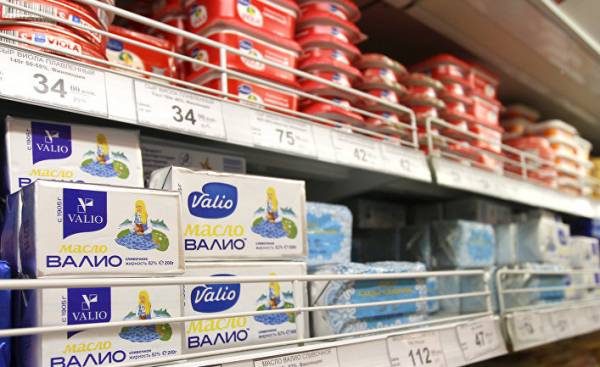 Every day around 6-7 am in St. Petersburg starts a terrible stampede: dozens of buses and minibuses travel to Finland with collect several travel companies.
The shock caused by the sanctions imposed on Russia after the annexation of Crimea, and the economic crisis has passed, and a new wave of Russian tourists again enthusiastically rushed to Finland.
The journalists of the newspaper Ilta-Sanomat boarded the bus at the Finland station in Saint Petersburg, and went in the direction of the Finnish city of Lappeenranta.
All the places the big bus busy. Each passenger already has a precise, pre-planned list of what he rides. When we were on the Russian side of the border, a last call to their loved ones, to find out what they would like to obtain from Finland.
One of the always late the passengers were Petersburg photographer Ilta-Sanomat Alexander Belenky, who got the assignment from his wife to work as a courier for the transport of cheese during a business trip.
"Edam, Parmesan and cheddar," again clarifies the ordering of the wife on the phone white.
The word "cheese" turned into a magic word, because every Russian travelling to Lappeenranta on one day, mentioned it as one of the reasons for the trip to Finland.
"Russian cheese is impossible, they're just horrible," grumbled a resident of St. Petersburg Marina igosheva and Marina Klimova, who go shopping in Lappeenranta several times a month.
"But we have something good to go to Finland, we live nearby. Frankly, I wish our Siberian compatriots. They live so far away, and they have to eat our cheese," the grumbles igosheva.
Russia imposed retaliatory sanctions against Europe after the capture of the Crimea. In the minds of Russians, the cheese became a symbol for the time before and after the Crimea.
The shelves of St. Petersburg Russian cheeses Packed in a beautiful package, and at first glance, the situation seems to be very prosperous.
The sad truth is that many Russian cheeses or even have no taste, or tasteless, or made with violations of technology of manufacture of the cheese. A year ago, the correspondent of the newspaper "Komsomolskaya Pravda" conducted an experiment: set fire to the journalists of "cheese product" began to burn in blue flames.
Cheese is very attracted to inhabitants of St.-Petersburg Irina and Sergei Ephraim who regularly come to Lappeenranta shopping.
"From Finland we bring the best quality goods and the fact that we are interested in. We love to cook and sometimes wants to be pampered" — says Sergey Efremov.
The couple admits that they've moved on to other cheeses. Finnish cheeses they have is not enough.
"Some time ago we found in the centre of Lappeenranta is a Spanish store where you can buy authentic Spanish cheeses", — says Sergey.
"And there we always serve in the Russian language", — adds Irina.
We are talking about the store Espa-market, the owners of which is the married couple themselves who transfer from Spain to Finland olive and olive oil, which are so attractive to Russian tourists.
Alla and Maxim tell Boden that I go to Lappeenranta food eight times a month.
"I don't eat cheese already, at least ten years. We all bring from Finland, even bread" — says Alla.
According to Maxim, in Finland, know what you are buying.
"In Finland is well organized control over the quality of food — not like in Russia", — expresses his point of view.
At the Mall Laplandia located at the crossing point Nuijamaa, Russian tourists, making shopping, make large batches of my favorite items: coffee, tea, cocoa, chocolate, olive oil, detergents, beginning with Fairy and OMO.
Often in trucks lies surprisingly a lot of boxes with vitamins and jars of ginger jam. It seems that these products hits of sales in Finland.
When Irina Kondratenko asked to list my favorite products, it was among the first to mention ginger jam.
"We in St. Petersburg are hard to find ginger preserves. I buy, for example, ketchup and tea, because in Finland even the traditional ketchup and Lipton tea is much better than products of the same brands in Russia", — said Kalugin.
Words Kondratenko confirm the General opinion that in Russia you can't always trust trademarks.
The exact reason for this is not known, but there are many possible explanations. The goods may be fake, or genuine goods are not realized as quickly to preserve the freshness, or some manufacturers deliberately do for Russia products of lower quality in order to ensure that prices remain competitive.
A jar of ginger jam and lie in the basket Irina and Sergey of Ephraim.
"Now in Vogue of various health foods and jam ginger is such a product," says the couple.
Russian use different varieties of jam when you drink tea. Say jam ginger helps with colds.
And Kondratenko, and Ephraim say always buy in Finland-vitamins — for example, omega fatty acids and other natural products.
But why buy organic foods in Finland if they are full of all Russian pharmacies?
"Although I am a patriot, but believe that the Finnish vitamins contain exactly what is written on the packaging," explains Kondratenko.
In Russia allowed to import five kilograms of food, which are subject to retaliatory sanctions. By law they have to be factory packaging, but still on imported fresh fish custom winks.
"Pack the fish just in case so that it caught the eyes of customs officials", says our guide, as we approach the border.
The Council is good. Russian customs officers inspect the bags of the tourists superficially, and weighed the Luggage only two tourists.
Comments
comments