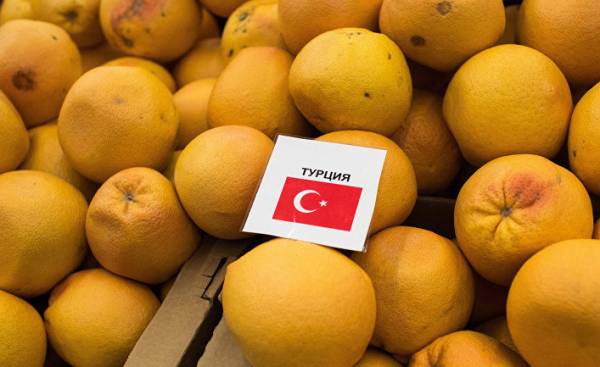 In 2014 the volume of foreign trade with Russia, included in the number of countries with which Turkey trades with most, began to decline. After the destruction of the Russian plane violated the Turkish border in November 2015, relations between the two countries became strained. Russia has accepted the decision on introduction of sanctions against Turkey in many areas, particularly in the area of foreign trade.
The process of normalization that began in the Russian-Turkish relations after the meeting that the presidents Recep Tayyip Erdogan and Vladimir Putin conducted last year, have borne fruit.
According to the Statistical Institute of Turkey, in January of this year, Turkey's exports to Russia compared to the previous month increased by 59.1%, from $ 94 million to 150 million. As this period also increased the income generated from the export of fresh vegetables and fruits. With the partial lifting of the Russian embargo oranges and tangerines from the export of fresh vegetables and fruits in January of this year received about $ 38 million.
In the same period, imports from Russia also increased from $ 1.3 billion to 1.5 billion, with growth of 10.2%. The largest share in the structure of import is energy (around 832 million), iron and steel ($279 million).
In the case of the implementation of the agreement on the liberalization of trade with Russia, on which negotiations resume, the customs and bureaucratic procedures in trade between the two countries will be accelerated, and the bilateral trade will increase.
"Our exporters are very well mobilized"
The Deputy head of the Mediterranean Union of exporters of fresh vegetables and fruits Mehmet Soylu (Mehmet Soylu) noted that the steps aimed at the normalization of relations with Russia, has made a positive contribution to the development of the sector. The lifting of the embargo with citrus products especially had a positive impact on export performance.
Soylu said that next month the citrus season ends, and in September will open again. "This and next month our citrus exports to Russia will grow at the same pace. If the efforts for normalization will continue and our relations will develop positively in the political sphere, our exports to Russia will increase even more. In addition, our exporters are very well mobilized in this country. Our exports will gradually increase".
Soylu also drew attention that Russia still maintains sanctions on certain agricultural products. "Some types of vegetables (tomatoes, zucchini, eggplant, pepper, pomegranate, grapes) the Russian embargo was not lifted, and our problems continue. If these limitations are removed, our exports of fresh vegetables and fruit will increase significantly".
Comments
comments