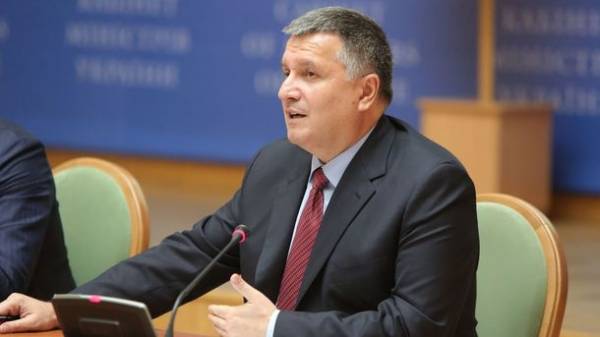 The responsibility for the blockade of Donbass are the mayor of Lviv Andriy Sadovyy and the head of the parliamentary faction "Samopomich" Oleg Berezyuk. This was at the Cabinet meeting said the head of the interior Ministry Arsen Avakov.
"I directly appeal to the mayor of Lviv Mr. Sadovyy and the head of the faction "Self-help" Berezyuk. You have that responsibility. You have made these decisions, you launched a campaign in 20-degree cold, you started this adventure – including, probably, in order to not looked closely at these problems from debris that occurred in Lviv. Did you go into this dirty political meat grinder – you will be held accountable," he said.
The Minister recalled that a few weeks ago in 20-degree cold from heat and electricity were disconnected Avdeevka. Then 10 soldiers died while trying to recover the heat. Also killed the head of the SSES of the Town, who was in charge of the operation. Another 80 people were injured.
This Avakov said that the purpose of the blockade is not stopping the smuggling, than claimed by its participants.
"Let no one deceive you: we have smuggling across the Western border much more than the East. And here smuggling? Smuggling is a separate process that must be clearly addressed. And they do precisely and clearly," he said.
The Minister expressed the hope that by March 1, will be prepared the resolution and tightened up the order of the transition lines.
"I insist on a minimum critical situation of the import trade, which will provide only essential for Ukraine", – he said.
In addition Avakov has proposed to give powers of law enforcement agencies to recover the situation.
We will remind, on Donbass lasts the blockade of the coal, with the active participation of several people's deputies of Ukraine. Upon blocking of railway lines in the Luhansk oblast Prosecutor's office opened criminal proceedings.
In turn the Prime Minister-the Minister Vladimir Groysman declared that will not allow the embargo to organize the fight against the Ukrainian people. The Prime Minister reminded that two weeks ago people risked their lives to restore the operation of enterprises in the town.
The website "Today" to find out the threat is a blockade of Donbass. According to experts, the consequences could be disastrous.
Comments
comments