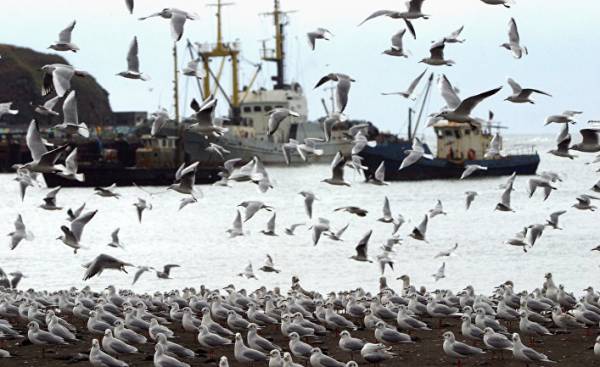 The Minister of defence of Russia Sergey Shoigu during his speech in the State Duma said that before the end of this year on the Kuril Islands is expected to accommodate the new division. According to some, this applies to the Islands of Kunashir and Iturup. The Soviet Union and Russia for over 70 years in possession of illegal "Northern territories", which are originally Japanese Islands.
Therefore, we cannot accept such provocative actions, which Russia is trying to seriously strengthen the troops.
Russia and Japan have set a goal in March to start discussions on joint economic activities on the "Northern territories". Such steps taken immediately prior to discussion, can not destroy the preconditions for discussion.
The government should demand that the Russian Minister took back his words and apologized, not to start a discussion, allowing you to look at yourself down.
For Russia tend to stick a knife in the back of an opponent just before an important discussion. Such acts don't see the desire to strengthen trust.
It is foolish to start discussing, despite the fact that the Kremlin does not change its behavior. Moreover, the international community will be forced to change their attitude to Japan.
Commenting on this issue, the Secretary-General of the Cabinet of Ministers of Japan Acehide Suga (Yoshihide Suga) expressed regret, noting that this is not the position of Japan.
The protest was made through diplomatic channels, but Russia formal protests do not disturb.
In November last year, just before the Russian-Japanese summit, Russia launched the "Northern territories" the latest anti-missile systems. It is not known whether expressed by the Prime Minister of Japan Shinzo Abe protest to President Putin about the missiles.
Rather, the Japanese leader stressed that the result of the summit is the start of a joint economic activities.
Prime Minister Abe explained: "it is Necessary to prepare a plan for the future of the four Northern Islands and to seek solutions on the basis of this plan. This is a new approach." He stressed that the island is not confrontation but co-existence.
How is the coexistence in the region where Russia is stepping up military expansion? The Japanese authorities stressed that joint economic activity should not harm the legal position of Japan. While Japan juggling with words, Russia is strengthening its de facto control over the Islands.
In March will host the Russian-Japanese meeting of Ministers of foreign Affairs and defence (2 + 2). Do not understand the meaning of such a meeting to an opponent who builds up military power. One thing to be done is to force Russia to abandon its plans. If Moscow will not do it, not to start discussions on joint economic activities.
Comments
comments