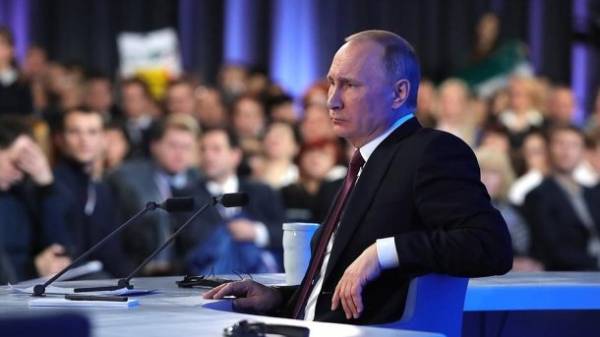 Russian President Vladimir Putin is short-sighted policies, but decisive, who wants to go down in history as a collector of "Russian lands", and he will continue to try to destabilize the situation in Ukraine. This was told on air of TV channel "112 Ukraine", the former head of the SBU Igor Smeshko.
According to him, Putin's greatness boils down to the limits of the Kremlin, as in the real world Russia is not at the forefront.
"Putin wants to go down in history as the gatherer of Russian lands. He is resolute. Around it has created an environment, that with pleasure he creates the illusion that he is the king and anything is possible. Being in the Kremlin, and often driving on the road and the real Russia, it is very easy to imagine that you rule the world. However, industrial production in Russia last year was less than in Spain, by a few percent. California produces more than Russia," – said Smeshko.
He also believes that Putin made a mistake, exposing the Eastern flank of the Russian Federation, leaving the main force to protect the Western borders.
"Hang in there 2 billion Chinese. Who can predict, not if they want to follow his path. And when he opened Pandora's box and stated that it is necessary to protect the Russian-speaking population, they may try to protect Chinese-language population. He destroyed a decisive part of the population of our country good attitude to Russian people. Now, in fact, destroyed that could be the only help in case of a real problem for Mr. Putin in the East. To call him far-sighted politician could not, strong – Yes. Obviously, in a situation when the European Union was not the consolidation of a strategic vision, it was not epoch-making men, like Charles de Gaulle, Margaret Thatcher, he used it. But for the long term is not a wise strategic move," said the former head of the SBU.
He also stressed that despite the desire to continue to aggravate the situation in Ukraine, the Russian economy is gives a signal to Putin about the growing threat.
"In order to continue with the same intensity jingoism, we need a new visible victory. Definitely will do everything to destabilize us and for the collapse of our state. On the other hand, economic indicators and dissatisfaction among the Russian oligarchs is a threat to Putin," – said Smeshko.
Comments
comments