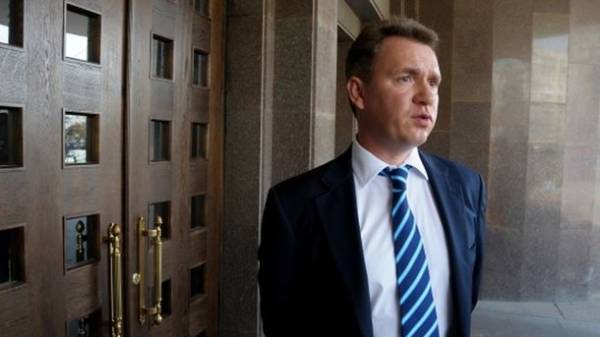 The Solomensky court of Kiev on February 24 at the request of the detective of the National anticorruption Bureau of Ukraine (NABU) is partially arrested the property of the head of the Central election Commission Mikhail Okhendovsky. This was announced by the attorney Okhendovsky Oleg Babich, reports "Ukrainian truth".
According to counsel, the court granted the petition to the NEB only partially: the court ruled the arrest of the car's 2008 release, a single Bank account Okhendovsky, the balance of which is about 100 hryvnia, and 22 shares acquired Stations in the mid 90-ies.
"Even the decision of the court is illegal. Already on Monday the decision will be appealed", – said the lawyer.
According to the latest declarations for the year 2015, Okhendovsky belongs to a place in the underground Parking lot, 22 stock "Zaporizhiaoblenergo", $ 43 on account of the "Ukrgasbank", UAH 205 thousand in cash, a Lexus LX 570 2008 release, a hunting rifle, cufflinks and watches.
The Chairman of the Central election Commission registered in an apartment in Kiev area of 54 sq m, the owner of which is his mother.
Most property and business of family stations issued on his wife and mother in law. This, in particular, houses in the village of Gorenka, Kiev area of 240 sq m and 120 sq m, where the Chairman of the Central election Commission.
Stations not indicated in the Declaration of the Kiev apartment of his mother-in-law Elena Arkhipova on the street Protasov Yar, 8 312 sq m and two Parking spaces at the same address. This property Okhendovsky mother-in-law bought in 2009.
At the same time, under the terms of the Declaration, the official must declare the property of relatives, which he enjoys.
Recall, may 30, 2016, the NEB launched an investigation at the request of the former first Deputy Chairman of SBU Victor Trepak. He said that was transferred to the NEB documents, allegedly confirming illegal payment by the Party of regions cash worth nearly $ 2 billion to a number of former and current senior officials, including the CEC head ohendovsky.
The Prosecutor's office announced Okhendovsky suspicion of accepting bribes in especially large sizes. According to NABU, the total amount of bribes that have received suspect, is more than 160 thousand dollars.
The Chairman of the CEC rejects all charges and says he will prove his innocence and will not escape from the Ukraine.
Comments
comments