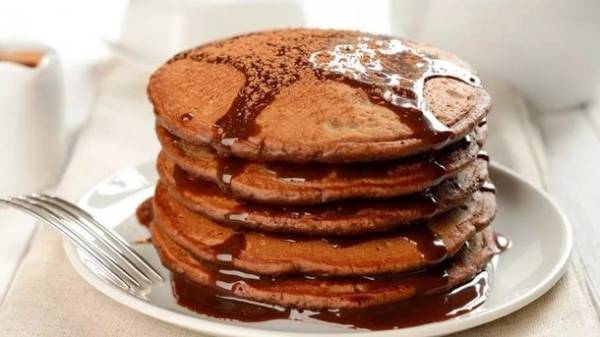 On this day our ancestors arranged sleigh rides clockwise around the village or the main square (the sun), and the guys staged fisticuffs. Well, the host was no where to roam – after all, at the carnival all dairy dishes are very good: pancakes, dumplings, and pancakes. And each family, of course, there are lots of different tested recipes all this vkusnoty. We offer to your taste a few classic recipes in an interesting twist.
PANCAKES WITH CHOCOLATE
Kefir TM FARM — 2 tbsp.
Flour — 2 tbsp.
Sugar — 3 tbsp
Cocoa powder – 2 tbsp
Eggs — 2 pieces
Soda — 1 teaspoon
Lemon juice — 1 tsp
Vegetable oil for frying
Preparation:
Whisk the eggs and sugar. Add the yogurt, then add the flour, cocoa powder and soda. Add the lemon juice and stir. Preheat the pan with vegetable oil.
Spoon to spread the pancakes into the pan and fry on both sides over medium heat. Serve with chocolate sauce or sour cream.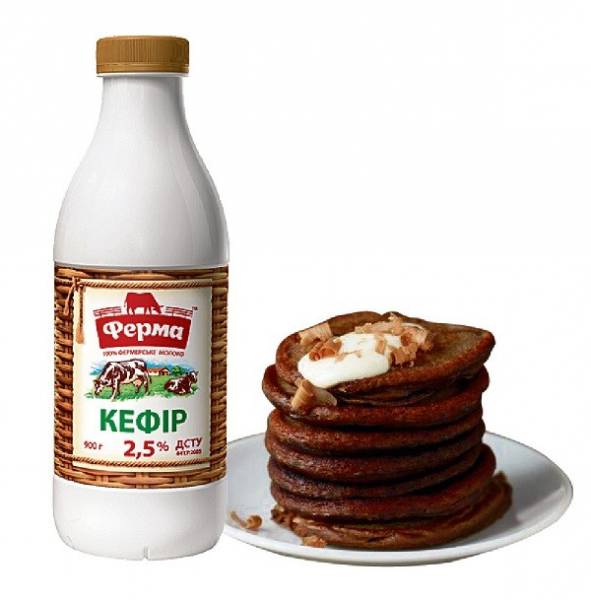 PANCAKE PIE WITH APPLE SOUR CREAM FILLING
Ingredients:
For the dough:
Eggs – 3 PCs.
The milk from the FARM – 500 ml
Flour – 250 g
Sugar – 1 tbsp
Butter – 60 g
Vodka – 4 tablespoons
Salt – to taste
For the filling:
Apples – 6 PCs.
Sugar – 50 g
Sour cream – 3 tbsp
Cinnamon – 1 pinch
Preparation:
Sift the flour. In a large bowl, whisk eggs with sugar and salt, add milk, whisk again, stir in the flour and whisk until you get a batter without lumps. Add in the dough half of the butter and the vodka, mix and place in a warm place. Then Nazarite pancakes.
When you bake pancakes, make filling: peeled apples cut into 4 pieces, remove core and place in a saucepan. Pour in a half a Cup of water, cover and on medium heat sauté for 10 minutes, then add the cinnamon, sugar and sour cream, stir and without a cover, sauté on high heat for another 3–4 minutes, Remove from heat and set aside to cool.
Cover with cling film rectangular shape and place on the bottom two pancake so that their edges hung over the sides outside. Depending on the size of the form put layers 1-2 pancakes, stacking them 2 or 3 times, each layer to cover the filling. The last layer cover the hanging edges of the bottom pancake and wrap, put on top of oppression and put a pancake pie with Apple sour cream filling overnight in the refrigerator.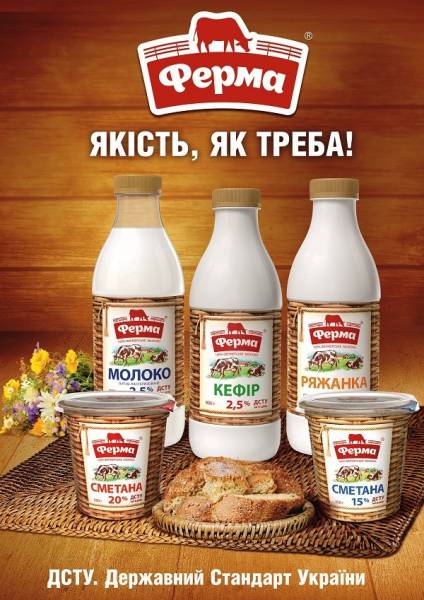 DUMPLINGS LUSH
Ingredients
Kefir TM FARM — 300 ml
Egg — 1 PC.
Baking soda — 1 teaspoon (no slides)
Salt — pinch
Sugar — 2 tbsp (if you are planning a sweet filling);
Flour — 500g (plus a little mixing and topping the table)
Preparation:
Whisk the egg with a fork or using a whisk, add kefir, add salt, stir (for the variant with the sugar and add it). Sift the flour into a bowl, add the soda. Make a well in flour, pour the liquid component, mix. Laid on the table, podpylenny flour, continue kneading, adding flour. Weight, not very thick, should be free to come unstuck from hands and work surface. Make a ball, place it under a bowl or under a cloth napkin, and leave it to swell from 15 to 20 minutes. Make dumplings with any filling and cook for 7–8 minutes in the steamer, in Montevarchi or by setting a colander in the pot.
BUCKWHEAT PANCAKES WITH KEFIR
Buckwheat flour – 1 tbsp.
Yogurt – 1 tbsp.
Salt – 1/2 tsp
Eggs – 2 PCs.
Water – 1 tbsp.
Sugar – 2 tbsp
Vegetable oil (for frying)
Preparation:
To start, whisk the eggs and gradually add to it the yogurt, sugar and salt. All a good stir, introduce buckwheat flour and stir again. Feature buckwheat flour in that it contains almost no gluten, which pancakes may be less elastic than that of wheat flour. So many Housewives while cooking these pancakes suggest to mix buckwheat flour with a small amount of wheat. As for the proportions, it is usually taken in a ratio of 50:50. Now slowly add water and stir again until a homogeneous batter onto. A well-heated pan, grease with a little vegetable oil and begin to fry the pancakes. The result is a thin, elastic and strong enough pancakes, which especially will appeal with sour cream.
Comments
comments