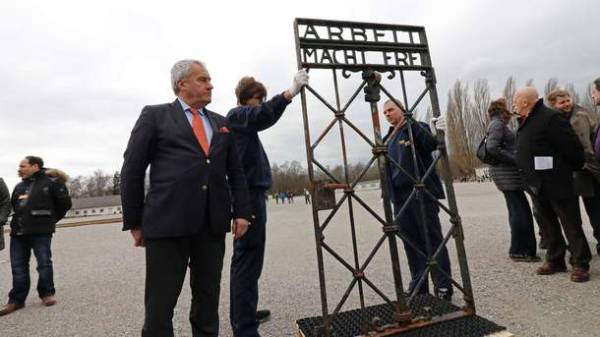 Historic gate with the inscription "Arbeit macht frei" ("Work makes you free"), stolen two years ago from the former Nazi concentration camp Dachau, returned to the Museum, located on the site of the former death camp.
About it reports "Russian Service of BBC".
The iron gate of the former Dachau concentration camp with the inscription Arbeit macht frei, which weigh nearly 100 kg, was kidnapped in early November 2014.
In December 2016 the Bavarian police reported that the gate was found in Norway near Bergen. It is not reported how the gate was in another country and who may be involved in their disappearance. In connection with the theft nobody was detained.
After the disappearance of the gate, the representatives of the German police said that the kidnapping of the gate might be connected to neo-Nazis. Police also do not exclude that the crime could go "crazy collectors".
Dachau, located near Munich, was the first concentration camp in Germany. It opened in 1933, a few weeks after coming to power of Adolf Hitler.
Initially, the political prisoners were kept, however, during the Second world war, he became a death camp. It killed more than 30 thousand people, mostly Jews and Gypsies.
In 2009, the inscription "Arbeit macht frei" was stolen from the former Auschwitz concentration camp in Poland. Later she was found cut into three parts.
Comments
comments