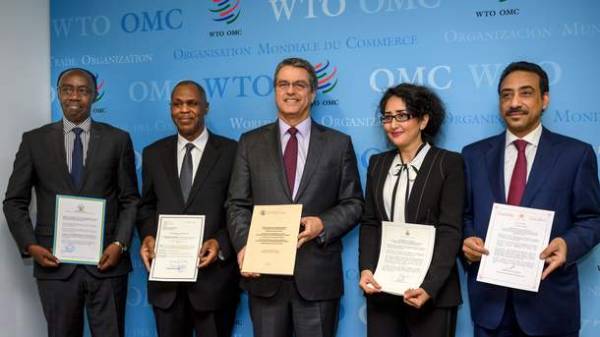 The first major agreement to liberalize global trade under the world trade organization entered into force. As reported by WTO on Wednesday, February 22, the Agreement on simplification of international trade procedures (Trade Facilitation Agreement – TFA) has ratified more than two thirds of the 164 members of the organization, which is sufficient for its entry into force, reports DW.
WTO head-Robert Azevedo expects that the new agreement encourages the growth of the world economy by 0.5 percentage points per year.
The document adopted during the conference in Bali in 2013, provides for the simplification of customs formalities phasing out subsidies, the expansion of assistance to developing countries and facilitating access to world markets for poor countries.
According to a member of the Board of the Federal Association of German industry (BDI) Stefan Maira (Stefan Mair), the first multilateral agreement since the establishment of the WTO is "the correct answer declared by the President of the United States Donald trump the policy of isolation".
Comments
comments