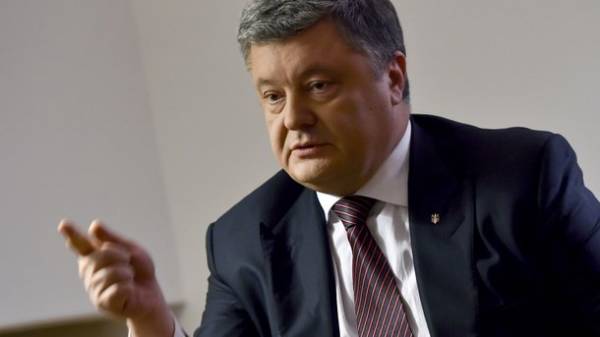 Temporarily occupied by Russia territory of Donbass can be returned to Ukraine solely as a result of political and diplomatic settlement. This was stated by President of Ukraine Petro Poroshenko.
"There's my strong position, is the position of our team that exclusively political and diplomatic means we need to return to the territory of Ukraine, and completely erroneous opinion of politicians who say we need to cut this territory and de facto to give her. I stress and remind you of his words: not you, these lands were collected and not for you to cut them off," said Poroshenko at the meeting of the Council of national security and defence on Thursday in Kiev.
"They block not ORDO and ORLO, they block Ukraine and our struggle for territorial integrity", – said the President.
Earlier, Poroshenko announced that the national security Council at the meeting on Thursday will consider urgent measures to neutralize threats to energy security of the country.
Previously Petro Poroshenko has said that Russia is trying to divide the responsibility for the worsening situation in the Donbass. "I categorically reject any attempt to place the responsibility for the worsening situation on the front in the Ukraine. Or even have this insidious tactics of Moscow to split it between Moscow and Kiev. We will not allow this to be done," he wrote on his page in Facebook.
Poroshenko stressed that the Ukrainian military actions undoubtedly have the character of a forced defense.
Comments
comments