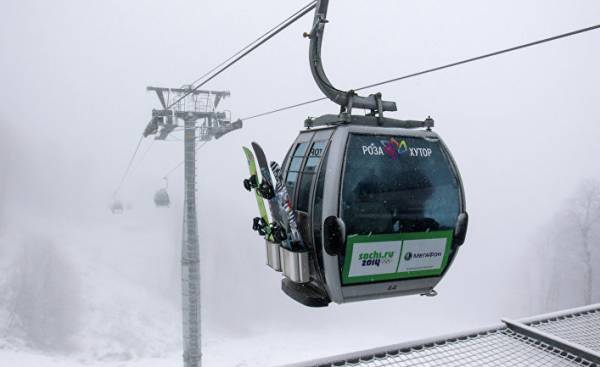 This landing in Sochi from the Black sea, right over the Olympic buildings, is very impressive. Heavy clouds hang over the gray winter water, palm trees at the airport, shivering from the rain. Subtropical winter in Sochi. Mountains and snow appear only after the tunnels at almost 46 km journey to Krasnaya Polyana, with its main resort of Rosa Khutor.
Here for the first time landed in early February of this year a Charter airline Condor from Berlin — schönefeld. The plane was filled only 45%. The first flight of this flight was even postponed for several weeks due to the small demand. Our plane was filled primarily journalists and employees of travel agencies. They were quickly and loudly beat the drums so that the following flights have been crowded. But now, even before the end of the month flying again will stop. And thus the problem emerges quite clearly: the Rosa Khutor ski resort, which three years ago showed itself in the media in full splendor, when there took place the Olympic competitions in skiing, wants to finally prove himself in international tourism. But nobody really knows how.
This is a small place has its own marketing Director: Olga Filipenkova, 34, a resident of St. Petersburg with a very determined look and sharp folds around the mouth. Together with his colleague Julia moss from the tourist Agency Visit Russia she flies around the world to tell everybody to come in Sochi. Here great. Not the easiest job.
It's not that no one wants to come here. The resort has become a kind of nearby winter recreation area for Moscow and St. Petersburg. Now, after the crazy Christmas holidays, when all the guests complained about the crowded restaurants and the queues at the lifts (and the Russians are willing to complain), became again calm and uncrowded. Now students come from large cities which still have some free time. In most cases, they are already sitting in a plane with a snowboard thick ski pants, then change at the airport on the train and head straight to the slopes. Snow is guaranteed even at this time — ski-run rose Farm located at an altitude of 2300 meters.
The type of people here, more pleasant, more open, more relaxed Russian
In the gondola — ski coach, who today is the weekend. He enjoys a couple of hours of skiing in deep snow and even offers to show us some of his favorite routes. Then he told me that this winter I wanted, actually, to work in Austria in order to get good money. "But there were problems with the visa".
Rosa Khutor not differ more from ski resorts in Austria or Switzerland, with the exception of security control when landing in the valley in the gondola, and the controllers, and skiers are equally careless, and self-service eateries serving soup, pancakes with condensed milk and chicken Kiev. Here they say "mulled wine" and beer "Baltika", although it is brewed in Russia.
The daily pass for the ski-run costs in terms of almost 25 euros. The visitors house, from youth tourist bases or apartments with the services of a Concierge and a Japanese sauna barrel on the terrace. In the town there are a variety of opportunities for hanging out after a day's skiing, karaoke bars, expensive clothing stores. The type of people here, more pleasant, more open, more relaxed Russian. Friendly, helpful staff. Many of them speak English.
So what's the problem?
This issue can be set permanently. Here only the correct answer will receive a rare. In Sochi too. And certainly not from the marketing Director. Olga Filipenkova begins and in one breath talks about the Olympic standard ski slopes, great value for the price and quality and that Sochi can provide something for every budget. "Good skiers will find here something for themselves, we must give the masses a new culture of service, to show the Russians what is in their own country". The hooded sweater from Filipenkova written: "Keep calm and… do business in Russia" ("Keep calm and do business… in Russia").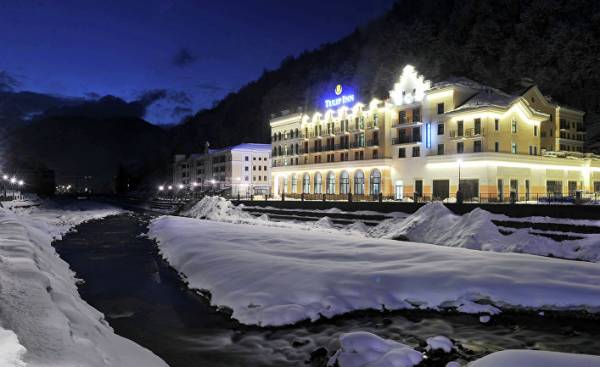 © RIA Novosti, Vladimir Astapkovich | go to potamocorbula hotel complex "Rosa Khutor" in Krasnaya Polyana
The one who is in the gondola and sails in the direction of the mountain station Rosa Peak, see the bottom of a narrow valley through which meanders, flows the river Mzymta. On its banks are houses that do not guess the concept of urban planning: Tuscan style, Alpine shade, smooth facades of hotels, wild mixture. Nothing original. "Oh, — said one tourist from St.-Petersburg, — it is not as important as it looks here. Previously, there were only a few old wooden huts, and now rose farm became a resort."
And then, there's the Caucasus: an impressive chain of mountains, the soft, angular. Ski slopes high quality and well visible. The territory does not look insanely diverse. But there is a decent 77 kilometres of ski slopes with modern lifts in Austria. The Internet works almost everywhere.
And yet: only one leg Sochi can comfortably stand. Of those, 800 thousand of Russians who come here in the winter, obviously not enough, if you spread that out over the whole year. In the few days of winter break here, everything is crowded. Those who come by car can idle in traffic in the tunnel. And then in front of the Elevator. This equipment is designed for 10 thousand visitors a day, but on some days between Christmas and New Year or in January willing to come and 15 thousand skiers.
Over the past two years the ski resort has evolved well, at least this applies to domestic tourism. First came the fall of the ruble, at the same time Russia began to compete with the West, Turkey and Egypt. Wealthy Russians lost their places for holidays. Many became suddenly unavailable St. Moritz and Salzburg. Why not try a place that knew the Olympic coverage on TV?
According to statistics Olga Filipenkova, classic tourist in Sochi masculine, a father, relatively young, from 27 to 34 years. He knows the ski resorts in Austria and Switzerland and wants — or is forced now to know their own country. Maybe he likes restaurants such as Paulaner or international hotel chain. But he does not mind when the strategy of tourism play a little bit of the feeling of patriotism, in Russia now it works pretty well.
But how to approach foreign guests that this position is rather scare? It seems that it is unsolvable for Filipenkova problem. "It takes time" — she says. And considers the example of Whistler in Canada.
Another problem: every place that the mountain cluster belongs to various Russian oligarchs. Some are silent, others, like energy giant "Gazprom" are everywhere. One wanted to open a second Courchevel, the second wants above all to promote yourself. Mountain resorts are not related to each other, as kings of the mountain peaks can not agree. For each of these three places you need to buy your own ski pass. How to explain this to the tourist-skier who comes here for a thousand kilometers and have to pay for the visa?
Filipenkova finally decided on a very clear point of view: "as long as we pursue this policy, we will not have enough visitors from abroad."
Comments
comments