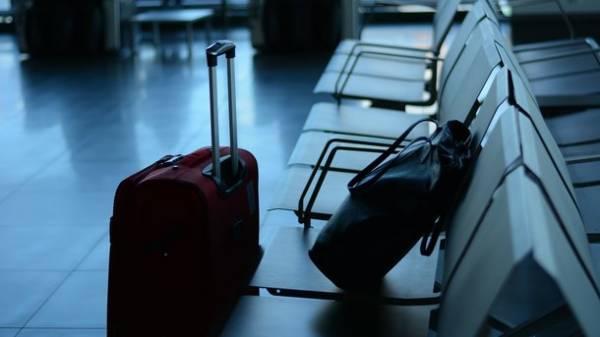 In the past year from Ukraine has left more than 24.6 million Ukrainians, with more than 98% of them went abroad with private visits. Only 0.9 percent or 224 thousand citizens, according to official figures, went to other countries with tourist visits, and even of 0.63% or 156 thousand Ukrainian business. About it writes "Business".
Over 10 million Ukrainians in the past year I traveled to Poland, almost 3.86 million citizens in Russia, in Hungary still 2.89 million, in Moldova — 1.65 million Ukrainians, and Belarus — more than the 1.11 million citizens.
The countries most took the Ukrainians with business visits last year, are Poland, Belarus, Bulgaria, Turkey and Russia.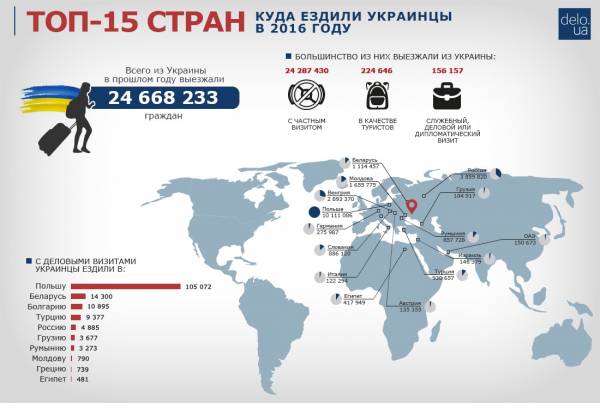 In turn, drove to Ukraine in 2016, more than 13.3 million foreigners. Of these, over 4.2 million citizens of Moldova, 1.82 million from Belarus, of 1.47 million citizens of Russia, another 1.26 million from Hungary and also of 1.19 million Polish citizens.
According to the state statistics, the foreigners came to Ukraine again mostly with private visits — more than 97%. As tourists in the country drove 172 thousand citizens of other countries, 167 thousand in the framework of cultural and sports exchange.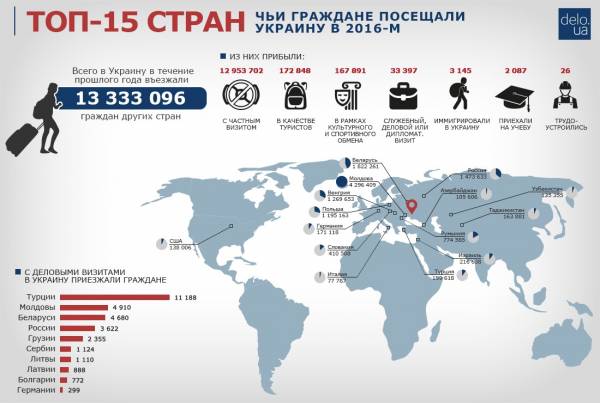 Over 33.3 thousand foreigners came to the business and diplomatic visits, mainly from Turkey, Moldova, Belarus, Russia and Georgia.
Also in Ukraine last year immigrated 3145 citizens of other countries came to study 2087, to 26 people.
Recall that the data also confirm that most Ukrainians visit Poland.
Comments
comments