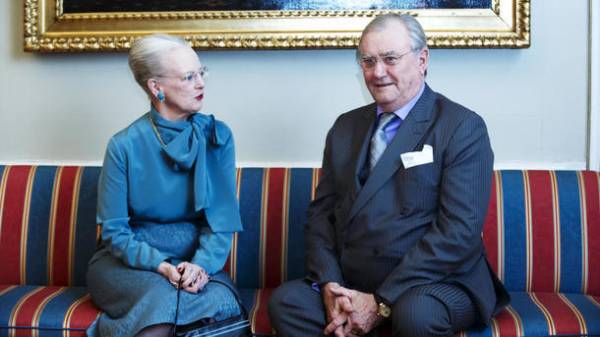 Henrik, Prince of Denmark decided that, after death, does not want to be buried next to his wife Queen Margrethe II of Denmark. He is unhappy that his wife never made him king. While they both live: Henrik 83 years, his wife of 77 years, reports Meduza.
Henri Marie Jean andré and Princess Margrethe met in the 1960-ies in London. The Frenchman worked in the Embassy, and the Danish studied at the London school of Economics. They were married in 1967. The French diplomat became a Prince and changed his name to Henrik. The couple had two sons, Frederik and Joachim. In 1972, Margrethe became Queen.
Prince Henrik was always angry that his wife's status above him. He was particularly angry about the case in 2002, when Queen Margrethe was ill and could not receive visitors for the New year, and this duty was performed by her son, crown Prince Frederik, who must become king after his mother's death. Henrik outraged that he couldn't receive guests in their own home. It seemed to him that he walked away not even for a second and a third plan in the Kingdom, and for three weeks went to France. The Queen had to follow him. In the end Henrik went back to Denmark.
In 2005, the Queen gave her husband the title of Prince consort (he is taller than just the Prince, but below the king-consort), but Henrik was still dissatisfied. "I'm not going to put up with it. I never accept!" — he was indignant in an interview of 2015 under the laughter of his wife, who was sitting nearby. "Why do I have to be just Prince and his Highness, not his Majesty?" — Henrik asked in an interview with Le Figaro the same year.
"It Angers me that I am discriminated against. Looks like that in Denmark, known for its fight for gender equality, men mean less than wife," said the husband of Margrethe II.
On the eve of the 2016 Queen announced that her husband was "retiring" and will be less likely to appear at events. In April of the same year the Prince consort Henrik has decided to abandon his title and become just a Prince.
The decision of the Prince to be buried next to his wife violates the centuries-old tradition — usually the ruling spouses are buried nearby. Prince Henrik is on his own, he decided that once in life were not equal to his wife's status, then so will remain after death. While Henrik wants to be buried in Denmark, where he served for more than half a century, not in France. The Queen agreed with the decision of her husband.
Recall, the 91-year-old Queen of England has surprised the motley outfit.
Comments
comments