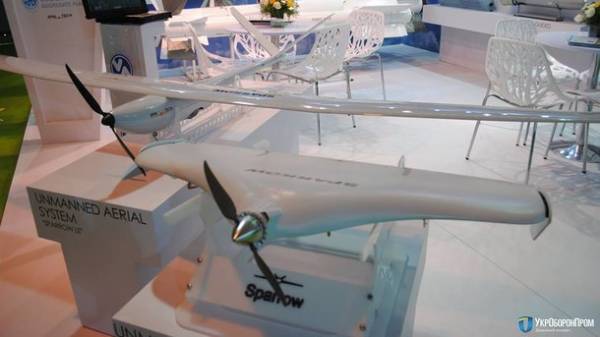 On the first day of the international aerospace exhibition "Aeroindia-2017" state Enterprise "Spetstechnoexport", which is part of the state Concern "Ukroboronprom", has presented a new tactical unmanned aircraft system Sparrow-LE. About it reports a press-service of "Ukroboronprom".
Sparrow-LE is designed for aerial reconnaissance on a secure digital data transmission channel at a distance of 25 km from the control center. It can stay aloft for up to 3.5 hours.
The wingspan of a new drones – more than three meters, which greatly improves its performance in comparison with other complexes of this class and allows remains undetectable both visually and to radar.
The drone is resistant to mechanical and thermal influences, is protected from moisture. Management is carried out both in manual and in automatic mode, including automatic take-off and landing. The system is able to determine the coordinates of the objects and conduct observation of objects in adverse weather conditions and in mountainous terrain.
In Ukraine, this unmanned aircraft system is already preparing for the trial operation of the Armed forces of Ukraine. At the exhibition "Aeroindia-2017" complex is presented in a modified configuration in connection with a certain difference in the requirements of India's Armed forces to such a class of unmanned systems.
A new model of drone was created by the developers of the company "Spitak". On the first day of its presentation, the development has aroused great interest among the participants of the exhibition "Aeroindia-2017", since its specifications exceed the requirements of the Indian partners.
Aero India 2017 is held from February 14-19 at the airbase of the Indian air force Yelahanka ("Yelahanka") in Bangalore. This is one of the largest regional international defence exhibitions. The organizers of the salon are the Ministry of defence of India, the Organization defense research and development (DRDO) in collaboration with the Aviation Union of India.
India is among the prospective partners of Ukraine in the sphere of military-technical cooperation (MTC). In 2010, the parties signed an intergovernmental agreement on cooperation in the sphere of military-technical cooperation. Experience includes cooperation, including partnership in the field of modernization of military transport and combat aircraft and armored vehicles.
Earlier the Indian side has already voiced interest in boosting bilateral military and technical cooperation with Ukraine in the field of technology transfer, the development in India of production of military products with the assistance of Ukrainian enterprises, as well as in the field of joint scientific military developments.
Comments
comments