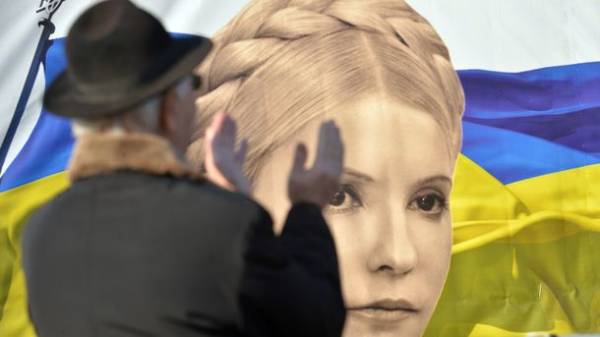 Prime Minister Vladimir Groisman accuses the leader of the faction "Batkivshchyna" Yulia Tymoshenko of corruption and populism.
He stated, reporting on the outcomes of the program activities of the government in 2016.
"The founding father of the modern Ukrainian state, we believe Hrushevsky. Parents of corruption, populism, inefficiency, repeated economic crises are people. I believe that the mother of the Ukrainian economic weakness, the destruction of Ukrainian independence, corruption, populism and inefficiency is Yulia Tymoshenko. This is a real mom, who for 20 years did everything to destroy Ukraine. And there is always someone bothered her. Something she didn't – she says she's someone interfered," he said.
The Prime Minister recalled the activities of Tymoshenko during his tenure as mayor of Vinnytsia.
"I remember February 14, 2007. I'm the mayor of Vinnitsa. The leader of "Batkivshchyna" Tymoshenko arrives to Vinnitsa to remove Groisman the post of mayor. You know what? For the tariffs. It has been 10 years. After that, she became the Prime Minister of our country. Left without removing, – could not. Can not handle it. Vinnitsa 49-th place according to all indicators came out on top, and Ukraine – at last," – said Groisman.
The Prime Minister also criticized the points made Tymoshenko at a press conference on Monday.
"Another total lie. I understand that she has a potential desire to fall greedily to power – for it is an end in itself. We need to reach to our goal was a strong Ukrainian state. This is a total lie undermines the opportunities for success of Ukraine and Ukrainians. Not one word of truth. What I heard yesterday makes me think. What she is opposed to the people was the minimum wage 3200? If she does not support the oligarchs and his other companions from the point of view of funding of the shadow things? Maybe she has nothing to all the corrupt schemes associated with gas and destruction of Ukrainian energy independence? Not if the contract today in Stockholm Ukraine "Gazprom" has exposed the claim of 38 billion dollars? Therefore, I emphasize that those who today stand behind it – they, probably, including her use her greed for power for the collapse of our country. Based on what I see today the possibility of complete stabilization and economic growth, I want to emphasize that no person, who has the intention to destroy the country, does not prevent us to lead the country to success. And we do not own, and every Ukrainian citizen", – said Groisman.
Recall, February 10, Yulia Tymoshenko and 12 other MPs from the "Batkivschyna" registered a decree on the resignation of the Prime Minister. On the same day, the resolution disappeared from the Council website. In Parliament explained that according to the Constitution Parliament may consider the question of the responsibility of the government, where such order will be served not less than 150 deputies.
Comments
comments