Russia has overtaken Ireland in the list
Photo: REUTERS/Tatyana Makeyeva
Russia continues to beat the record of the coronavirus in Europe. So, Russia took the sixth place for the number infected and on the 10th place in the mortality rate, ahead of Ireland. This is evidenced by the American Center for system science and engineering (CSSE) at Johns Hopkins University.
As of 5 may in Russia, the coronavirus has infected 155 370 people during the whole period of the epidemic, recorded 1451 death. It is also known that 19 865 patients recovered from COVID-19. Today, the country's 134 054 infected person.
In Belarus, the number of infected is already one and a half times more than in Ukraine. And this despite the fact that the Belarusian population is much smaller. So, in Belarus the number of patients with the coronavirus has reached 18 350, and in Ukraine – 12 697.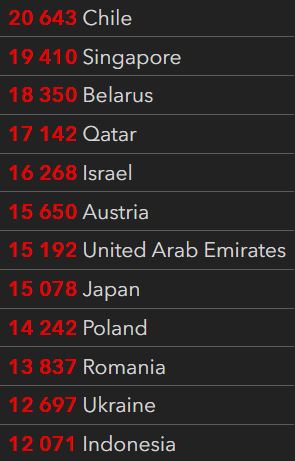 We will remind, in Moscow for the last day, may 4, 5714 recorded new cases COVID-19. Only in the capital of Russia contracted 80 115 people, the daily growth amounted to 7.7%. It is also known that about 90% of newly infected people are younger than 65 years.
We also wrote that a former adviser to Putin, the Russian economist, senior fellow at the Cato Institute in Washington, Andrei Illarionov told that in the autumn of 2019, the Kremlin made it clear that Russia's epidemic. At a meeting with officials Putin discussed this trouble, but the Russians decided not to warn.
Comments
comments