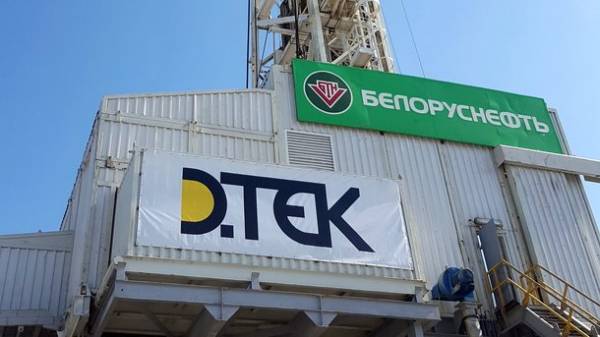 25 Sep 2017 DTEK oil & gas has started drilling the well # 25 Semyrenkivske gas condensate field. For the first time in Ukraine the drilling work is performed by the Belarusian company Belorusneft, which won the tender for the provision of drilling services for the four wells for DTEK Neftegaz.
The depth of the directional well will be 5714 m. During drilling will be used modern equipment: Italian stationary drilling rig Drillmec 1500HP 2014 release with a capacity of 1500 HP drilling rig Drillmec MAS 6000 winch with a lifting capacity of 345 tons, top drive Canrig 1035 AC-500, actuator with electronically controlled speed for production General Electric. The mud will provide pumps type triplex power of 1600 HP and for cleaning drilling mud will be used equipment company Derrick.
For drilling directional section of the borehole with the use of rotary-driven DTEK Neftegaz attracted one of the leaders in the international market of services – a Schlumberger company. With the deepening of the well will be used drill bits Smith of the same company.
Drilling of all four wells for DTEK Neftegaz "Belorusneft" will be pitless method using the technology of slurry dewatering using a special dehydrator. This method of drilling complies with the best international environmental standards and was one of the demands of DTEK Neftegaz for environmental security in cooperation with Belorusneft.
"The beginning of drilling of well No. 25 can be called a milestone for the industry. In Ukraine for the first time begins drilling company "Belorusneft", which represents a new competitive milestone in the development of drilling and maintenance services on the Ukrainian market. From the moment of contract conclusion till the full mobilization with the installation of the machine was less than two months – and we're ready to start drilling operations, using modern equipment and technology. We are confident that our cooperation with our Belarusian partners will become a successful example for the industry and will provide another contribution to the energy independence of the country", – said Igor schurov, General Director of DTEK Neftegaz.
"Association "Belorusneft" considering the DTEK Naftogaz as a key business partner. We are impressed by the strategy of the company, and the growth rate of production, and approaches to the development of the resource base. To build the object at the Semyrenkivske gas condensate field will be a team of experienced toolpusher Vladimir Taras on the machine, which meets all modern international requirements and is equipped with a 4-stage purification system imported. Drive major assemblies of the rig – adjustable-frequency induction motor that allows for smooth and precise adjustment of the drilling modes", – said Alexander Lyakhov, General Director of "Belorusneft".
Comments
comments