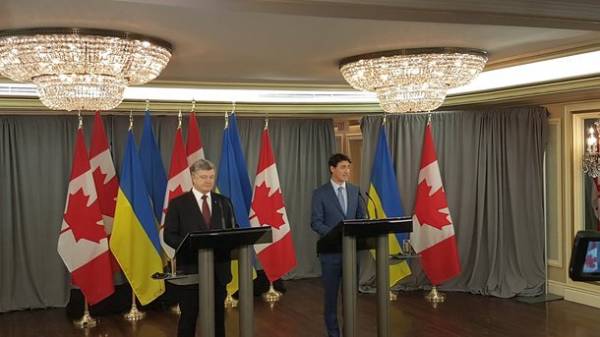 The President of Ukraine Petro Poroshenko counts on the help of the Great seven countries in the return of Crimea under Ukraine's sovereignty.
"I consider the platform of the group of Seven (G7) as the platform that will underpin our efforts, an international group of friends to end the occupation of the Crimea", – said Poroshenko at a joint with the Prime Minister of Canada Justin Trudeau press conference on Friday in Toronto.
SEE ALSO
Poroshenko proposed to create a "club of friends of the Crimea" Gerashchenko called the main problem
Poroshenko noted that Ukraine counts on Canada during its presidency of the G7 (c 2018 – Ed.). "Thanks to the presidency of the G7 Canada can play an even more important role in ensuring peace and stability in Ukraine and Europe", – said Poroshenko.
Previously Petro Poroshenko has expressed confidence that the occupied Crimea and temporarily uncontrolled Kiev territory of Donbass will be liberated. "We will refund the Donbass, we will refund the Crimea", – he said.
Petro Poroshenko also called on the international community to create a group of friends on the de-occupation of Crimea and said Russia does not respect the decision of the International court in respect of the Crimean people.
"The most terrible in this situation that Russia constantly chooses the tactics of increasing human suffering. The Crimea became a territory of repression – everyone who does not agree with the Kremlin, are deprived of their liberty or even their lives," said Poroshenko.
Comments
comments