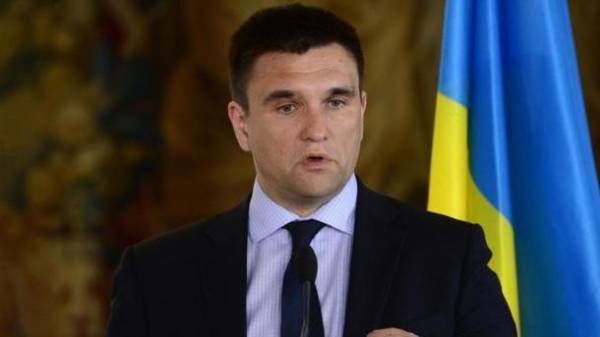 During all of the negotiations that the President and his team were in Canada, a warm atmosphere reigned strategic partnership. This was during a stay in Toronto was told by the Minister of foreign Affairs of Ukraine Pavlo Klimkin, reports UKRINFORM.
"Someone can be surprised, but I will say that the important thing during this visit was the atmosphere. Very friendly on the contents of the atmosphere of strategic partnership", – said Klimkin. However, he said meaningful and powerful component of the negotiations.
According to the Minister, one of the main topics was the development of economic cooperation. "First, this desire, so to speak, to encourage free trade. This year we have a turnover growth of 72%, but if you look at the absolute numbers and compare them to the number of Ukrainians here, it becomes clear that this is only the beginning," said the Minister.
The second major theme was the presidency next year, Canada in the G7. "We talked about the priorities of the presidency and various political things, and the promotion of reforms in Ukraine", – said Klimkin.
He added that it was also discussed visa liberalization. "Now, because of the specific migration system of Canada, our citizens get a sufficiently large number of failures. We roughly outlined the way how it significantly reduce," – said the head of the foreign Ministry of Ukraine.
Recall President of Ukraine, together with a large government delegation is on a two-day official visit to Canada. In Toronto he met with the Prime Minister of Canada Justin Trudeau, Minister of foreign Affairs Christ Freeland, Premier of Ontario Caslin UIN, canadian MPs and senators as well as local businesses and the community. In addition, Poroshenko congratulated Ukraine at the "Invictus Games".
Comments
comments