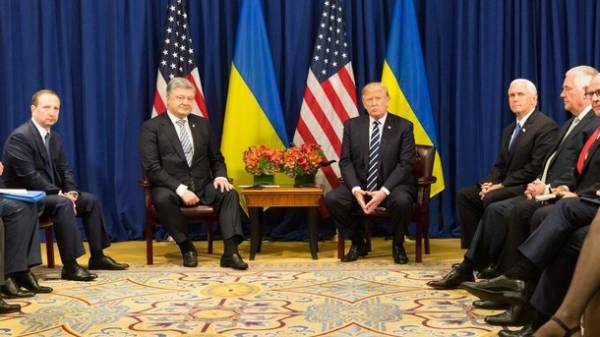 The President of Ukraine Petro Poroshenko considers the successful placement of Ukrainian securities in the global markets as economic support for the reforms pursued by the official Kiev.
After meeting U.S. President Donald trump on Thursday, September 21, in new York, the Ukrainian head of state noted that the details discussed with his U.S. counterpart economic cooperation between the two countries.
"It is a pleasure to note the success of the first placement of Ukrainian sovereign bonds in world markets, and the high demand which was on the Ukrainian securities. Investors dollar vote for success and confidence in Ukrainian reforms. And I was pleased that a significant number of these investors were American companies," – said Poroshenko.
SEE ALSO
Danyluk explained why Ukraine issued Eurobonds for 15 years
He noted that the organizers of the placement were companies such as Goldman Suchs, JP Morgan.
"And it is also a form of trust and confidence in the success of Ukrainian reforms – not only from the American government, and American business," – said Poroshenko.
S President of the United States discussed Economou spitraw. Great Cup of COF on Ukrainian CNN paperi swit about dowry investors to reform pic.twitter.com/XaYfzqZs4M
— Petro Poroshenko (@Poroshenko), 21 September 2017 R.
Comments
comments