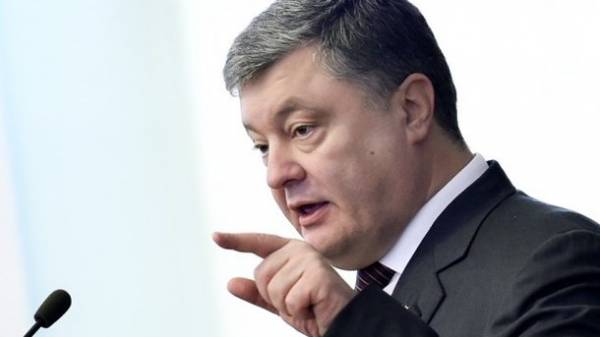 The UN peacekeeping mission in the Donbass must be placed, in particular, on the Ukrainian-Russian border, and also it should not be part of the Russian representatives. The President of Ukraine Petro Poroshenko said during a speech in Parliament with the message to deputies.
According to him, the truce from August 25, during which Ukraine has not suffered any combat losses, due to the implementation of the Minsk agreements.
"The main reason for the lack of progress in achieving peace in the Donbas is a total absence of political will of the Kremlin in the implementation of the Minsk agreements" – said Poroshenko.
SEE ALSO
Peacekeepers in the Donbas: "mnogohodovochka" Putin and scenarios
He stressed that Russia hinders the work of the OSCE mission and is preparing provocations, so the appearance in the Donbass UN peacekeepers would have a positive results.
"Russia two years completely threw away this opportunity, and the other partners is not supported. Now we have a common position partners to support the Ukrainian initiative. We heard reaction from. "The devil, of course, as always is in the details" (the words of Rasmussen. – Ed.)", – said the head of state.
SEE ALSO
Ukraine brought to the attention of the UN Secretary General its position on the peacekeepers in the Donbas
According to the President, statements of the Russian Federation that the UN mission should only be to protect the OSCE mission are "strange".
"We want to deploy a full mission, which will provide preservation of the Russian occupation, and the establishment of lasting peace. The mission should be located across uncontrolled territory, including the border between Ukraine and Russia. The mission should not participate presented conflicting parties, and mission parameters in any case does not have to agree with the militants of the so-called "L/DPR. It is clear that to agree on the parameters of the mission would be extremely difficult, but I believe that with the support of partners we will establish peace and return occupied territories", – said Poroshenko.
Recall, September 5, Russian President Vladimir Putin said that he supports the presence of UN peacekeepers in the Donbass, and called a number of conditions which have already sharply criticized in Ukraine.
As was stated by the permanent representative of Ukraine to the United Nations Volodymyr Yelchenko, the UN peacekeeping mission in the case of the introduction in the Donbass should be located on the Russian-Ukrainian borderand the participation of representatives of Russia excluded.
Comments
comments