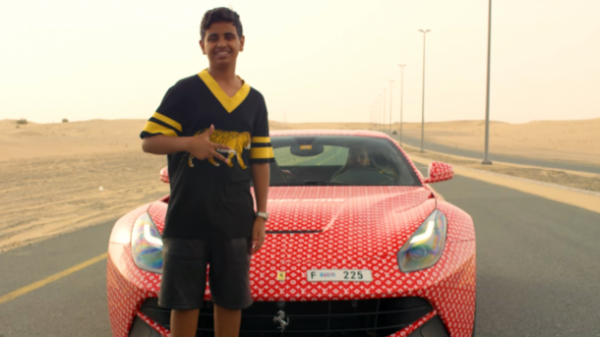 Rashed Saif Belhasa known in social networks under the nickname Money Kicks. And, like, throwing money do his favorite pastime, writes vokrugsveta.ua.
Rashed 15 years old, and he was just a rich teenager from Dubai. Where he goes, what he buys and the guy constantly says in his Instagram.
Video: Youtube
Belhasa recently posted a video about how his car for $260 thousand paste film printed Louis Vuitton. Dubai is famous for expensive cars, so to stand out on the road, you need to make your car truly exclusive.
Despite her young age, Rashid feels confident in dealing with the owners of the garage and was checking out the brand new Bentley. "I want to have this in the future. It's a good car," says guy. And he probably will, after all, Rashed – the son of a local billionaire construction magnate Saif Ahmed Belhasa.
SEE ALSO
The thing most people regret at death's door
Belhasa also known for its collection of sneakers worth $1 million They had as much as 200 thousand pairs. Even if he would change them three times a day, Rashed will need more than 180 years to at least once to wear every. Except for expensive things, the teenager often shows in their commercials exclusive places where is not allowed random people. For example, he was recently a guest of the hip-hop artist DJ Khaled at his mansion in Miami, fed giraffes together with Mariah Carey and had a dinner of raw meat at the Salt restaurant, Bae in Dubai.
On Instagram Rashid signed 661 thousand people, and on the YouTube channel 840 thousand. Video for latest takes a professional film crew from London.
Comments
comments