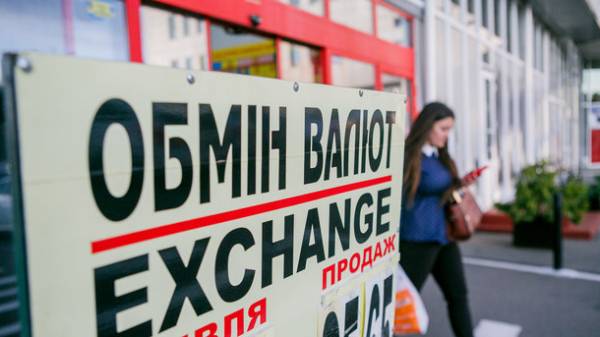 Now Ukrainians can withdraw any amount from their Bank accounts – the national Bank lifted the last restrictions for individuals to receive cash in foreign currency and Bank metals in cash desks and ATMs of the financial institutions. Early September last year, according to the order of the controller people a day could get no more than 250 thousand hryvnia equivalent.
Now in NBU believe – these anti-crisis restrictions have lost their effectiveness and can be removed.
"The NBU believes that it is possible to completely remove the restriction, given the substantial improvement in banking system liquidity in foreign currency and stabilize the currency market. At the same time, this decision should facilitate the further restoration of confidence of depositors in banks", – said the press service of the regulator.
The decision of the national Bank has already revived the currency market: yesterday the average rate of cash sales on the interbank market amounted 25,71 UAH/USD., and buy – 25,68 UAH. The demand for foreign currency increased. In the cash market the dollar per day has risen by 13 cents.
Experts predict the dollar future growth.
"August turned out to be optimistic, has strengthened the hryvnia on the interbank market. There are other positive trends: foreign investors began to seriously look at Ukraine, and international big banks give a positive Outlook for our country, investments in bonds support the hryvnia. Taken NBU currency restrictions also increase the attractiveness of our investment – explains the analyst of FOREX CLUB Andrey Shevchishin. But with September starts business season, so the demand for currency will rise, the dollar will fluctuate in the range of 25-27,2 UAH, depending on the regulation of NBU".
SEE ALSO
NBU changed the rules of issuing hryvnia loans
Agree with him and economist Ivan Nikitchenko. "Because of the devaluation of the forecast for the hryvnia is not as good, but it will again fall to 27-27,5 for a dollar. Let me remind you, according to the forecast of Ministry of economic development and the budget resolution in 2018, the average expected rate of 28 UAH/USD. To him we will come in January-February 2018."
After the dollar will rise and the Euro. Experts remind that the currency in Ukraine is tightly connected with the price of the dollar and sensitive to any fluctuation.
Comments
comments