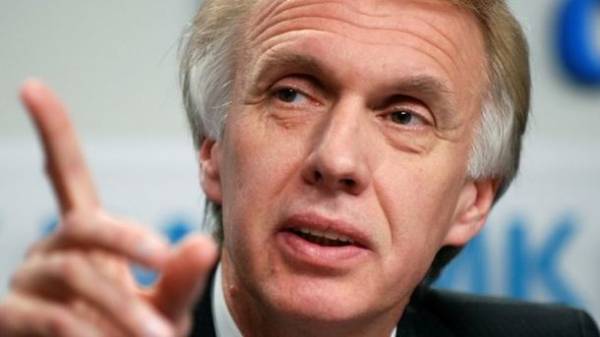 During a meeting in Minsk with Russian presidential aide Vladislav Surkov, the US special envoy Kurt Volker probing the ground for possible concessions to Moscow on the Ukrainian question. About it in the comments InfoResist said the ex-Minister of foreign Affairs Vladimir Ogryzko.
In his opinion, the meeting Walker came to the meeting with Surkov to understand what Russia is willing to go to resolve the conflict in Ukraine.
"It is, figuratively speaking, "prinucovania" and how to configure on any particular wave, the means of communication. Although they write that the meeting lasted three hours, I think that they just walked through the agenda and trying to understand — mostly the American side — how far can Russia retreat. I don't think the Walker at the first meeting voiced any suggestions. He probably tried to feel how far you can move. With that said Surkov, it is clear that the expected results almost was not. A common phrase about the informative meeting is just the beginning. I think that the version of the search output for Putin, of course, also took place. Or will it be tomorrow or in three months", – said Ogryzko.
SEE ALSO
In Russia estimated the likelihood of the withdrawal of occupation troops from the Donbass
He also believes that real progress in the Donbass will not begin until the new year when Americans will begin to freeze the accounts of those Russians who keep their money in the United States.
"Then this process will gain momentum. While it will talk, it will be some elements of trading. When a trump card is on the table, then start a real conversation. Yet it is a process that is only outlined some prospects", – said Ogryzko.
With regard to the statement by the Deputy Minister on the issues of the temporarily occupied territories and internally displaced persons of Ukraine Yury Grimchak on the possible withdrawal of Russian troops from the Donbass, the diplomat said, "Perhaps Mr. Grimchak has direct access to Volcker and knows more than everyone else. Think about it we Mr. Volker will tell you when you arrive in Kiev and will take part in our festive activities."
We will remind, yesterday in Minsk held a meeting Kurt Volker and Vladislav Surkov, discussed the settlement of the situation in the Donbas.
Comments
comments