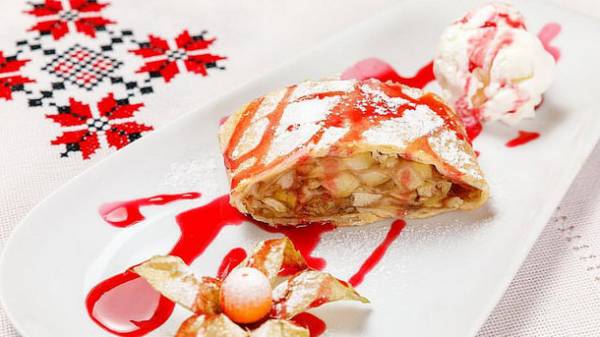 To make an Apple pie does not pose any difficulty: average cake (three eggs, Cup of sugar and flour plus baking powder) and apples. But I want culinary diversity. And that Apple strudel pita is exactly what you need. The most common pita bread, lots of juicy apples and a modicum of imagination will do the trick, writes liza.ua.
4 thin pita bread, 1 kg of sweet and sour apples, 4 tbsp lemon juice 70 grams of sugar, 100 grams of a biscuit, 100 grams of butter, one egg, 1 teaspoon of ground cinnamon, a pinch of vanilla (or one packet vanilla sugar).
Apples need to be peeled, remove the seed boxes, cut into cubes of medium size. In a pan should melt the butter, add the apples, sugar, pour over the lemon juice, season with cinnamon and vanilla (or a teaspoon of vanilla sugar) and stir, simmer for ten minutes. The butter with the sugar to form the liquid caramel, and part Apple juice to evaporate. A long simmer is not necessary, otherwise the apples will turn into puree.
SEE ALSO
Four recipes with "rejuvenating" plants that will help keep youth longer
Biscuits grind in a large crumb knife or blender. Instead of cookies, you can use breadcrumbs. They will absorb the Apple juice and will not allow the pita bread to soften. Mix crumbs with Apple weight and put a strip on the edge of the pita. Then turn the pita loaf, from the side you put the toppings on. Put the rolls on a baking tray lined with baking paper. Lube future strudels lightly with the beaten egg and prisypte sugar and cinnamon. Bake in a preheated oven at 200 degrees for 20 minutes. Formed when a petite, rosy, fragrant and crunchy sugar-cinnamon crust – the strudel is ready.
Comments
comments