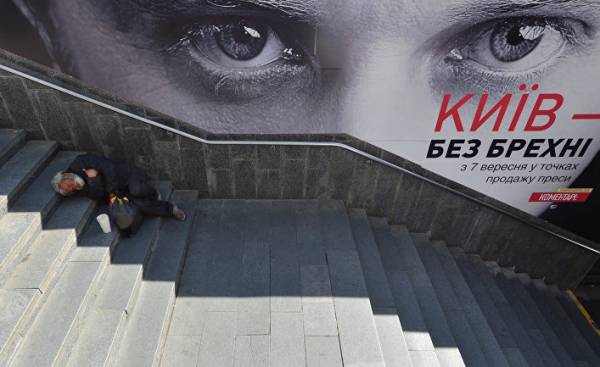 The world Bank has published a ranking of the easiest places to do business. Ukraine has risen three points compared to last year and ranked 80-th place among 190 countries. But foreign investors are: no ties to conduct business in Ukraine is difficult and unprofitable.
Cryptolibrary. MPs BPP stored in a bitcoin millions of dollars
At least this convinced the Italian Umberto Fiorentini, applied to "News", which for 11 years trying to do business in our country, but realized that without bribes nothing will build. He tried to issue a residence permit because his wife is Ukrainian, but here it demanded the money. And at the airport of the Italian once deported. Now he just has to leave Ukraine.
"Everyone wanted us to weld"
Fiorentini first came to Ukraine in 2007, it was a business trip to the city of Chuguev. Then he worked as a Manager at Laminazione Sottile, Europe's largest producer firm of aluminum foil. Here he met his future wife, a Ukrainian girl Evgenia, and then started a family and decided to develop the business.
Service the danger of Ukraine: as the security forces out drug dealers and murderers
"Humberto had planned to launch the production of aluminum plate heat exchangers, which can significantly save the energy used for space heating. The amount of investment totaled about 500 thousand euros. But when one tries to issue a license to obtain permits, documents, certificates, he realized that to do business to a foreigner in Ukraine is not easy, it's very corrupt, — has told "news" the assistant to the businessman, Vitaly Ivanov. — Rent a room in Kharkov, we managed with great difficulty, we ordered equipment from our manufacturers. But the supply of raw materials was delayed six to eight months, each strove to acquire for us."
A residence permit for three thousand euros
With the baby, Umberto began to spend more time in Ukraine and wanted to obtain a residence permit. Without him in the country he could be only 90 days.
"I offered several times to move to Germany, there is just over a month opened an office of his company, but it was hard for me to move on. I wanted to stay in Ukraine and persuaded him to settle in Kharkov. And we have a problem of obtaining a residence permit. Umberto insisted that all documents be done officially, to the passport office we have appealed three times. At first we refused, then the documents were lost and then asked for a bribe in three thousand Euro", — has told "news" the wife of businessman Eugene.
Not allowed and not given water
Further — more. After a long trip, Umberto returned to Ukraine. Customs officers in Kharkov decided that the Italian had been in the country for 102 days instead of 90, so the entry was refused and sent to the transit area. "At two in the morning I and his wife arrived at the airport, tried to talk to the leadership — it was all in vain. We took a phone charger and water, a human being asked me to give him the employee of the customs just slammed the door in front of us. Umberto was taken to the room where he was until six o'clock in the morning was expecting the flight to Minsk, where he was deported," — said Ivanov.
Already with a work visa a couple of months later, Umberto returned to Kharkov. When it was time to go back to Italy, at passport control in the airport employee has once again started to count the days of stay of the foreigner in Ukraine. "I said it was a work visa, nothing should be considered". Then the officer asked: "why is it you are not open?" It turned out that it had to do a customs officer, who let me in to the country.
"It is the negligence of the employee, but I'm going to have to count how many days you are in the country, and to prescribe a Protocol violation, since your visa is not open, therefore, invalid," — said the customs officer. And after I have hinted: a pier, leave the toilet 500 hryvnia, and we miss you. It was my last visit to Ukraine", — said the "Vesti" Umberto Fiorentini, who with his wife now moved to Spain.
The state migratory service told us that in the case of Italian no visa open is not needed. But the fact of extortion refused to comment.
The Frenchman Chabot threaten neighbors
Italian Fiorentini not the only one who faced the difficulties of doing business in Ukraine. The well-known French winemaker Christophe de Lacarin, which is more than ten years living in the village of Shabo, Belgorod-Dniester district, has repeatedly complained of "problem neighbors." According to Macarena, some locals seek to take away his land. Last year the raiders uprooted 11 hectares of vineyards, and strangers with a gun wanted to kill his dog.
Comments
comments