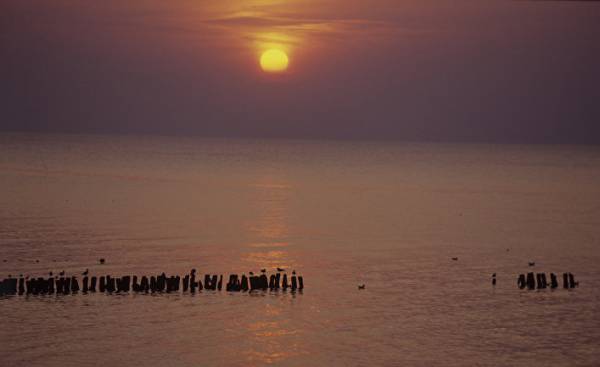 Edition Delfi asked to finally come up with a small guide in the Baltic countries and to talk briefly about the most memorable cities. It is unlikely he will be useful to someone, because of objective selection criteria to come up with failed. I just imagine that on Earth there are only three countries — Latvia, Lithuania and Estonia — have been very subjective and meaningless as a guide in question-answer form.

Where I wanted to be born?
Of course, it's Tallinn. I always thought that perhaps the most important in the early stages of growing up is the scenery outside the window, what you see every day, going outside. If you get used to the endless Soviet prefabricated boxes, this hangover belching Le Corbusier, the experience may be traumatic. If you look at the Tallinn architecture and the sea, then all will be well. It is located on the border of the Scandinavian and European worlds, and it's a beautiful intersection. Tallinn is the capital of a prosperous state with all its capabilities and advantages, so the choice is simple and obvious.

Where more than a foot?
Jurmala. One of the most dreary and depressing places. I would not want to hurt someone's feelings, many are probably like this city is a matter of taste. I thought he was wonderful in its nature, but disfigured by the culture of the Russian television and amorphous a beach holiday. All these second-rate and third-rate actors, accustomed to play at "Baltic festivals", cause I have a gag reflex. The spirit of the post-Soviet pop music is too ingrained in the sand and the resorts are not my thing.
Where did you study?
Naturally, Tartu. This city, in principle, left me with the best impression — it a heterogeneous, loose and impregnated a University culture. The University of Tartu is a global brand, a great tradition, and they taught Lotman. This is a lovely quiet place for intellectual formation and selflessly revelry. Tartu seemed to absorb all the fun and important but not inflated to obscene proportions and does not require to exert any unnatural effort to life.

Where is the Russian spirit?
This is a very difficult question. Russian spirit (whatever that means) scattered everywhere in Lithuania and Latvia, to a lesser extent in Estonia, but also there. I would have called Daugavpils. It is similar to the average Russian city, horribly eclectic, sometimes rude and often paradoxical. Lives here most Russian-speakers, but this is not so important. It is important that there is a lot russkogovorjashih. It perfectly was felt largely due to the fact that I was in Daugavpils, in the midst of elections. Usually in Russian cities at that time open wide the gates of hell, people go mad and do really weird things. In Daugavpils was the wild of the newspaper "Euro-Skeptics", killer Sveta-member exchange movie tickets to participate in some kind of weird political rally, war in social networks and substantial skepticism of all this circus with the local population.

Where is the beauty?
In Kaunas. I don't have time to consider it, but even at first glance I thought he was fascinating. It has some of my favorite European cities. It is not provincial, but not giant, not seething, but also not dull. He soaked some incredible stories, but not shouting about them. In General, it is about beauty, which for me consists of balanced dignity, slightly boring pedantry and harmonious structure. It's all about Kaunas.

Where would old age?
This Vilnius. Given that I would not like a dull old age in the company of TV's and a dental prosthesis is the perfect solution. Vilnius didn't strike me as young and youthful city, despite the architecture, pace and vigorous mayor. It has a strange languor, destroying any desire to hurry, to cling and to get ahead of ourselves. This situation is not very favorable to the work, rather to take walks and lazy writing a memoir. It is the capital for those who are not in a hurry. And though I have repeatedly complained about traffic jams, endless swarming and the inability in the evening to find a place in the restaurant, Vilnius has remained in my memory a well-preserved grandfather.
Where else have you had?
Definitely in Tartu. Intellectuals generally very interesting drunk, so in the main University town of Estonia for all of this was very interesting to watch. Just need to know the places where Bohemian educated stratum of society, to sit and listen. Yes, Estonian and stouts — it's wonderful, very sorry that three attempts I don't remember what was the name of that brand. After Tartu and Estonian beer, you can go to any Lithuanian city, where pour "Three nine" and further to improvise.
Where is the most interesting?
I have a slightly deformed interest, but with some reservations we can say that it's Visaginas. Overall, I don't particularly like the city itself, but the processes that are Mature in it is something truly historic. In fact, the city will either die due to the closure of its main and core enterprises, or completely reboots. In fact, and in another case this amazing drama, which I want to watch. One of the main ideas of saving the city is to place the plant to open huge data center. And if it happens to restart Visaginas, it will be a real breakthrough and an impressive stream of optimism. It's definitely exciting. Not for nothing Arturas bought in the city apartment and secretly records all the events.
Where to open a business?
It all depends on the specifics of the business. Overall, it seemed to me that in the Baltic countries is very favorable environment for entrepreneurship. So the answer to the question is purely aesthetic. In Riga I'd open a store of vinyl records, and in Tallinn were selling pipes. In such places want to do something analog, not the IT business.
Where was the most unexpected discovery?
And again Daugavpils! There is an incredible Museum dedicated to the works of Mark Rothko. We stumbled upon it almost by accident, and amid the General irritation is not expected that there will be something so awesome and cool. The Museum was very modern and informative, and most importantly, that there you can see the originals of the Rothko. And believe me, it's worth it: when you're faced with these "colored rectangles", understand why they pay such incredible amount of money. Not to feel when looking at Rothko's work in the Internet. Only live.
Where it was truly unsafe?
Oddly enough, in Tartu. The story was very funny. We Arturas went to an Orthodox Church. Went service. We were standing quietly at the door. I suddenly jumped a man in a cassock and started grabbing hands and a menacing look. I did not understand what he wants and absurd smile to reduce the degree of aggression. On the third attempt he did deign to say what he wants, so I pulled the hand out of your pocket, because it is forbidden. I was taken aback, but complied with its Charter in another monastery. And at this point, Arturas pulled out the camera and made a frame. Immediately say, that shutter it is very quiet, no one is prevented. But then my grabby hands ran up to Arturas and fiercely growled: "once out, take a picture of something, I'll kill you". His tone, complexion and crazy eyes spoke more in favor of the fact that he was not joking, and can grab from under his cassock a machete and cut there all to hell. After that, we hastily retreated. Arturas, of course, wanted to confront, but I imagined him score a censer under the jubilant cries of the crowd, and brought out of the temple.

Where I'd like to die?
I haven't decided if I want to die or still there. But if there was no choice, on the Baltic coast there is an amazing nook with a lighthouse, a rickety old house of the caretaker and the lovely beach. To die on the shores of the Baltic sea — not the worst option. Fortunately, about this place few people know, people are not there at all. So death would be pleasant and not complicated by unnecessary social factors.
Comments
comments