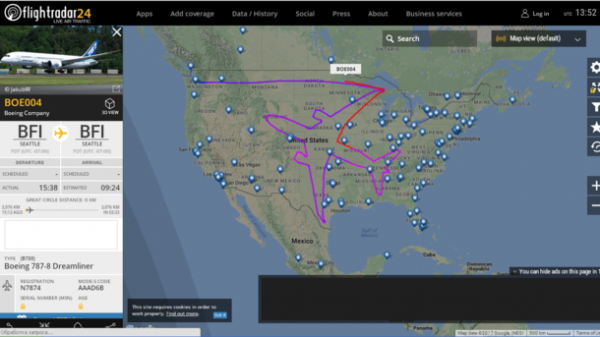 The American company Boeing was sent from Seattle passenger aircraft Boeing 787 Dreamliner in flight over the United States.
The route is designed to follow the contours of the aircraft. The figure retains all of the conventional passenger aircraft. The image proportional and very clear. The movement of the Boeing 787 can be monitored online on a special website. The flight lasted for more than 13 hours.
The Flightradar24 website in Twitter posted a video of the created pattern.
The gif this @BoeingAirplanes 787 is drawn with a 787 deserves.
Still in the air at https://t.co/ltUSXWvJ2a pic.twitter.com/FOWMsfqYW1
— Flightradar24 (@flightradar24) on 3 August 2017.
Comments
comments