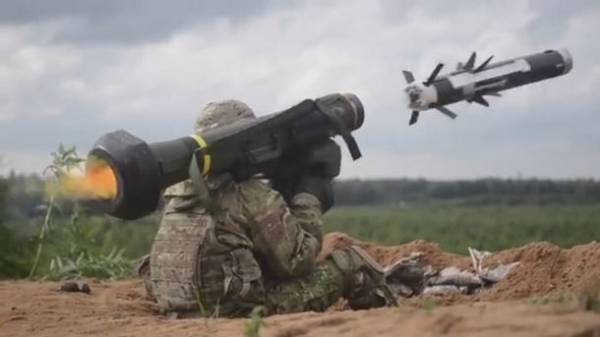 The granting Ukraine lethal weapons from the United States will reduce the use of fighters on Donbass military equipment against the Ukrainian military. This was told in the comment to the edition "GORDON" the people's Deputy, the coordinator of group "Information resistance" Dmitry Tymchuk.
He noted that the issue of arms of Ukraine the Americans studied the military and political parties, as they fear the reaction of the Kremlin.
"The U.S. side has done serious preparatory work. Representatives of state structures of the USA spent in Ukraine a series of meetings with experts, members of the Deputy corps and our military, including from the General staff and the defense Ministry. That is, they studied the issue from two sides – military and political. They wanted to understand how the provision of their weapons and defense capability of the Ukrainian army. Representatives of the United States was interested in our opinion: will provoke Putin providing Ukraine with lethal weapons to more aggression? As for me, what else is there to provoke? We're already the fourth year of the war. If Putin was ready for a major offensive in the Ukraine, he would have went for it," – said Tymchuk.
SEE ALSO
Putin commented on US plans to give Ukraine lethal weapons
At the same time, he believes that anti-tank systems, the APU will force militants to renounce the use of military equipment on the front.
"Putin sees that the West only supports us morally. Granting Ukraine the American weapons will cool his hot head. He understands only the language of force. For us it is important not military, and the military-political aspect. The Russians have to understand that Ukraine is not alone and we have no military support. Speaking specifically about the military component of this issue, I would have noticed that the past six months, the militants are actively using armored vehicles. They understand that we have no modern anti-tank weapons. When Russian mercenaries and local militants in the Donbas will know that stay on the front line will end in tears for them, using armored vehicles from their side reduced significantly", – said the MP.
In his opinion, information about the development of the United States of the plan of supply of defensive weapons to Ukraine is a positive moment for Kiev.
Earlier, the British TV channel bi-Bi-si said that the new special representative of the US state Department in Ukraine Kurt Volker said that Washington is actively considering the possible supply of defensive weapons.
According to military expert Alexey arestovich, to confront Russia on the battlefield, the Ukrainian military must be from the US, about 2-2,5 thousand anti-tank missile systems Javelin.
Comments
comments