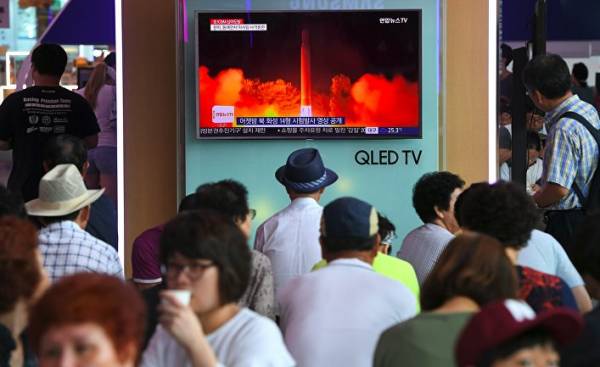 At the end of last week North Korea launched an Intercontinental ballistic missile (ICBM). This is the second missile after launch on 4 July. This time the rocket was launched in the dead of night, which is very unusual. Such wild military provocations cannot be ignored.
According to the Ministry of defense, the missile flew for about 45 minutes. She has overcome some thousands of kilometers, rising to a height of 3.5 thousand km, the flight Time and height — best all-time North Korean tests. Media of the DPRK stressed that now the whole territory of the United States is now in range of North Korean missiles. They also praised the ability of the DPRK to attack by surprise, which was demonstrated for the night run.
Experts believe that the ultimate goal of the administration of Kim Jong-UN is to receive from US guarantees the inviolability of its own, but attempts to achieve its threatening nuclear weapons and missiles, outrageous. The international community needs to unite and provide powerful sanctions pressure to stop the barbaric actions of the DPRK.
In particular, the key to this is in the hands of China and Russia, who are the backbone for the DPRK. Both China and Russia have a negative attitude to sanctions, but it is undeniable that a soft position ensures that the DPRK continues its aggressive actions.
Beijing and Moscow must realize that the nuclear and missile development of the DPRK pose a serious threat to world security. As permanent members of the UN Security Council, they are required to take full responsibility.
As for China, it accounts for about 90% of the entire foreign trade of the DPRK. It is crucial that it has strengthened economic sanctions and strictly enforce them. For example, China should go to the oil embargo, would deal a powerful blow to the system of Kim Jong UN.
It is also important that Japan, the US and South Korea together to have an impact on China and Russia. The administration of the President of South Korea, moon Jae-In, with enthusiasm for dialogue with North Korea, has proposed to Pyongyang to hold military talks, but Kim Jong-UN has ignored this offer. Seoul should look facts in the face and to engage with the US and Japan, increasing the pressure and enhancing the missile defense.
Missiles fired by the DPRK, often fall in the exclusive economic zone of Japan. I wish the Japanese government continued to gather information about the DPRK and prepared the system response, to be able to respond to an emergency situation.
Comments
comments