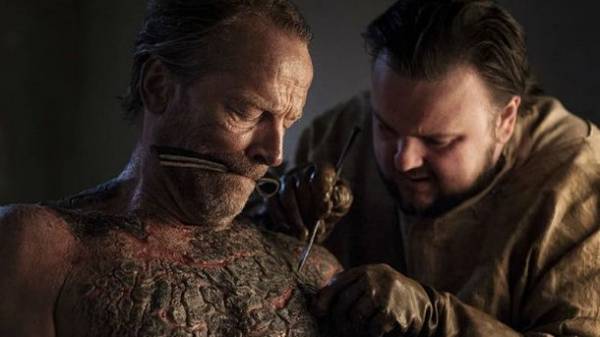 Dr. Jules Lipoff, senior fellow of the Department of clinical dermatology at the University of Pennsylvania, analyzed the grayscale — fictional mysterious illness of the fantasy series "Game of thrones", which turned out to be infected with the character Jorah Mormont.
He found a type of infection, its causes and methods of treatment, writes the edition of Vox.
According to Lipoff the grayscale infection is more contagious than Ebola. According to the degree of danger, it resembles anthrax or black smallpox. The physician noted that the disease distinct from leprosy, in spite of external similarities (infected covered in growths).
See also: Emilia Clarke gave predictions on season 7 of "Game of thrones"
Lipoff, said that the grayscale is most likely caused by a non-cellular infectious agent, similar to the human papilloma virus as transmitted through touch. The role in the spread of the disease may play a genetic predisposition — the character of "Game of thrones" Princess Shireen Baratheon, grey contracted the illness in childhood, was able to overcome a deadly disease, even though half her face was left riddled with scars.
As noted by the dermatologist in order to develop a vaccine from of grayscale, select the virus. Taking into account the phenomenon of Shireen, a deadly disease can be stopped.
Earlier it was reported that a mathematician from Budapest came to the conclusion that the main "winner" in the TV series "Game of thrones" will become a favorite of the audience with Tyrion Lannister, or a schemer Peter Baelish and Theon Greyjoy.
"Game of thrones" — the fantasy series based on a series of novels by American author George R. R. Martin's "a Song of ice and fire". Out 2011.
The project has brought fame to many beginners and little-known actors, for example, Emilia Clarke, kit Harington, Sophie Turner and Maisie Williams.
Comments
comments