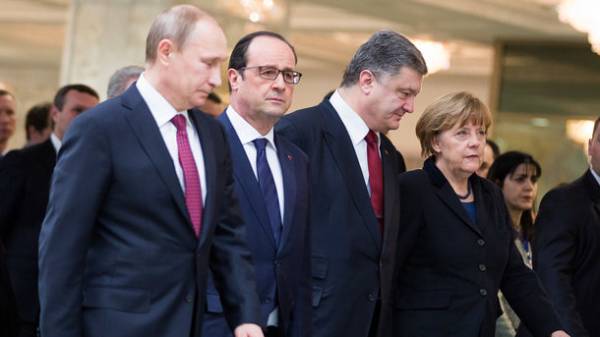 The leaders of Germany, France Ukraine and Russia hold telephone talks in the "Normandy format". This was reported to the press Secretary of the President of Russia Dmitry Peskov, transfers "RIA Novosti".
"Now, in this moment, is still ongoing telephone conversation in the Normandy format. The President (of Russia – Ed.) Putin talks with Chancellor Merkel, President Makron and President Poroshenko", – said Peskov told reporters.
He noted that the Kremlin at the end of the conversation will provide information to journalists.
See also: macron announced the telephone conversations of leaders of "Norman Quartet" at the Donbass
According to Peskov, the conversation in the "Normandy format" is still ongoing and is now to voice any results. "He continues," he said in response to a question about the agenda and time of the conversation.
"Soon we will give your message, how do we do this usually, and colleagues in conversation, I think, will give information to the media," – said the press Secretary of the Russian President.
Previously Poroshenko said that during these negotiations will require the immediate provision of the regime of silence in Donbas.
Comments
comments