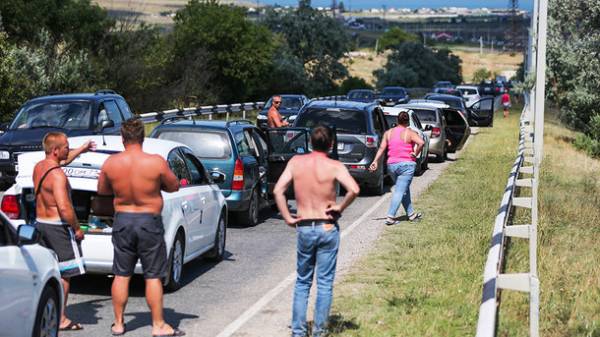 The number of persons and vehicles crossing the administrative border with the temporarily occupied territory of Crimea, continues to decline.
It is reported by the state border service of Ukraine.
According to the office for June 2017 admingranitsu in both directions, crossed by 13% of citizens is less than in the same period last year, while vehicles less than 21%.
"The same situation in July of this year: two weeks citizens is 13%, and cars by as much as 27% less than for the same period in 2016", – stated in the message.
See also: the Inhabitants of Crimea are beginning to complain: the expert spoke about the problems on the Peninsula
However, according to the guards, the occupants continue to artificially create a queue in front of the checkpoints.
"Today, frontier guards of the Berdyansk group who serve in control point "Chongar", once again recorded a slower pass from the occupants of vehicles through admingranitsu. It was found that the occupation authorities have created a tube artificially, to display the picture on the influx of tourists to the Crimea for representatives of the media propaganda, which arrived for the next "shooting", – reported in state frontier service.
It is noted that prior to the arrival of Russian journalists pass speed the Russians were very slow, which led to the accumulation of cars. However, as soon as the representatives of the Russian media, the movement intensified.
"All of this is done in order to create a picture of the influx and excitement," say the guards.
As reported, the network shocked the giant tube in the Crimea.
Comments
comments