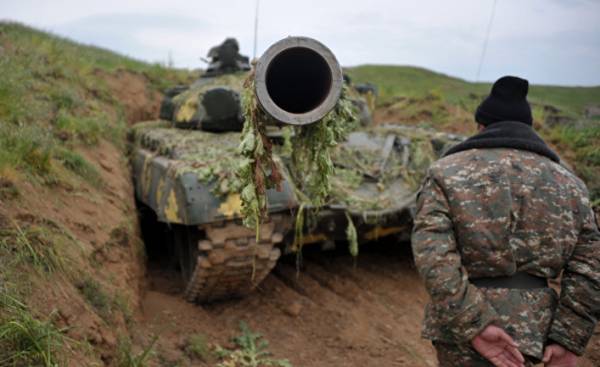 Aravot: What expectations did you have from the meeting of the foreign Ministers of Armenia and Azerbaijan and how they met? Again failed to bring Azerbaijan back to the negotiating table, what should we do?
Samvel Farmanyan: We live in a complex, in a sense, confusing, unstable and ever-changing geopolitical and geo-economic environment where the actual long-term and impossible to carry out certain calculations in any mathematical modeling. Moreover, when these calculations relate to issues of war and reconciliation. Why I started to answer the question? Because the issues of war, reconciliation and peace relate to both relations between the conflicting parties and the situation on the front, and indirect and the surrounding circumstances. This is the other side of reality.
The OSCE Minsk group carries out its mission — the alternative of a political settlement around the negotiating table really, no. This simple truth is understood by all, even in Azerbaijan, no matter how much the military-political leadership of this country said the opposite a hundred times a day, had not resorted to military provocations, using their own population as human shields. These meetings I assess as positive, and approaches of the Republic of Armenia is more than understandable — we want and are ready to go through negotiations to achieve a comprehensive diplomatic solution to the problem, with the support of intermediaries. To achieve this, the same should be desired, and Azerbaijan, and to this it is necessary that Baku has proved its commitment to a peaceful resolution, perform the agreements reached in the last two presidential summits, is not opposed themselves to the mediators of the OSCE Minsk group, would refrain from escalation of the situation at the front, which leads to severe human losses and so on. Here. Meanwhile, Azerbaijan does not and is threatening war, resorts to provocations, it is necessary to do two things: try to increase international pressure on Azerbaijan to force him to sit at the negotiating table, and second, sequentially to modernize its armed forces and to cause disproportionate damage to the enemy without impunity any insolence.
And in the long term you need to build a country which its capabilities and international behavior will have no points of comparison with Azerbaijan. In my view, this is the only key to the historical consolidation of forged in war, victory.
— Russia continues to arm Azerbaijan. Recently, it was reported the supply of new weapons — TOS-1 "Sun", about 200 missiles, with a range of up to six kilometers. How are we going to justify this behavior a strategic partner and look at it as purely business?
In this regard, I and many of us have had the occasion to speak. In view of the Russian side's arguments and appreciating our effective cooperation in the framework of the CSTO, it is obvious that in Armenia and from the Armenian people is perceived negatively, when our strategic partner, our ally, number one supplying weapons, with an offensive weapon, a country with which we are in a situation is not declared a de facto war. This Azerbaijan shoots exclusively in our direction. This country threatens us large-scale war. On the other hand, we don't have to explain to Russia her own national interests. We must do what is possible — to define our interests and to move forward solely considering them.
— How to use Armenian diplomacy known scandal about providing Azerbaijan weapons of the terrorist organization "Islamic state" (a terrorist organization banned in Russia — approx. ed.)?
It is a good reason for reasoning visual-historical nature: the history of our people, especially the new and newest periods presented in such a way (as a result of the collective perception of our people and remains so), supposedly in some country "sits" unjust international community, with the sword of Themis in hand, and quite to the Armenian diplomats came to this place, brought weighty arguments that Azerbaijan is a country that supports terrorism, and the sword down on the head of the unjust and terrorist Azerbaijan. 25 years of independence, more than enough to understand — the world is always moving and will always move towards real politics, which is dominated by political expediency. If these same countries will need to punish Azerbaijan, to impose sanctions against him for supporting terrorism, I assure you, not only to the declassified documents of the Embassy of this country in Bulgaria, but also hundreds of other of evidence and reason there is for this. Or, figuratively speaking, for the "death sentence" of this country. What I said does not mean that you need to indulge in idleness. No. We need to continue to work in the sweat of working with world opinion, also on parliamentary platforms at the same time forming realistic expectations from the international community.
— What happened to the destiny of the agreement on mutual military assistance between Armenia and Artsakh, which after the April war threatened to flesh and blood?
— The contract with Karabakh can be signed per hour. Moreover, at any moment, we can go ahead and recognize the independence of NKR. This is not done solely based on one thing: there is still hope that the result of the efforts of international mediators will be possible to force Azerbaijan to sit down at the negotiating table and reach a diplomatic way, what we aspire to for decades — the international recognition of Karabakh's independence and ensure a stable and substantive guarantees of the security of our compatriots Karabakh. At this point, in my view, such a step is not very appropriate, on the basis also of the fact that the OSCE Minsk group continues efforts to move the negotiation process, and we appreciate these efforts as overly important. Any step that will put Armenia and Karabakh to the unconstructive position and will oppose us intermediaries, is unlikely to be useful to us now. This logic is now moving to Azerbaijan, with the result that Baku itself against international mediators and isolated according to the logic of settlement. In the end, if you take this step, then the negotiations with Azerbaijan will lose its meaning, with the expiring of this all possible consequences.
Comments
comments