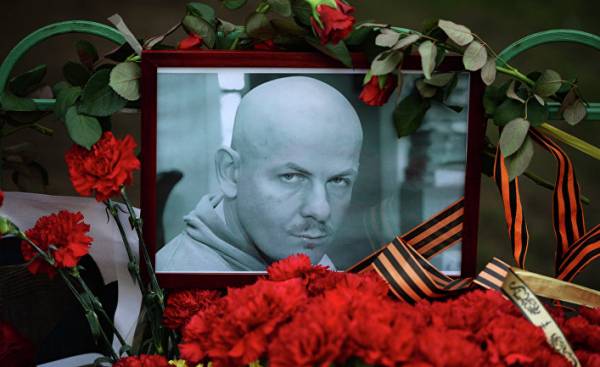 Today would have turned 48 years the known Ukrainian writer, journalist and writer Oles Elder, whose life was interrupted by a shots were fired in the courtyard of his house on Church street in the spring of 2015. It became one of the most high-profile crimes that occurred in Ukraine in the post-Maidan period. Point in case is still not delivered, the perpetrators were not punished. Still being discussed the different versions executors and customers of murder.
In this public debate is not involved the mother of the deceased journalist, who continues to live with a bleeding wound on the heart. She regularly travels to visit the grave of his son on Berkovetskaya cemetery and in spite of believing in justice. Mother Elder is convinced that her son suffered because of their political views and their creativity. On the eve of the birthday of Olesya Valentina Pavlovna turned to his friends and colleagues to honor the memory of the deceased. This started a conversation with "Country".
"Country": Valentina Pavlovna, your son was a famous person, and, as usual in a creative profession, amassed a lot of both friends and opponents. What would you like to tell them on the eve of the birthday of Olesya?
Elder Valentine: I don't know how is it faring his enemies and foes, they remember Lesyk, but judging by what I see — the memory of his son alive. Much of what is happening today in our society, he foresaw.
Friends and colleagues of Olesya want to Express my gratitude, with many of them I continue to communicate today. I do not know whether, given the current political situation to call the names of all those people who support me, but there are many. I had no idea that so many colleagues of Olesya will respond to our grief and to help me. Visiting the grave of my son I notice people go there and Express words of support.
Frankly, after what happened I am in a very serious condition. For a mother to endure such grief is almost unreal. But thanks to those who morally supported me, I'm still holding on. And ask God for strength to help me stand and wait for the moment when I will see the victory of justice in the case of Oles.
– The Prosecutor's office not long ago announced that the investigation into the murder is completed. Do you think that the investigators came to the correct conclusions, putting forward suspicions nationalists Medvedko Andrei and Denis Polishchuk?
Can't say for sure. But I'm sure it will show the court. To take a sin and label it, I don't want to. The only thing I will say — for me, the murder of the son of still not clear, I can't perceive, because I do not know who gave the command to raise a hand against Olesya. Too many questions to whom it was profitable, how did the investigation and so on.
I, as a mother who has read all the materials Oles, which were published in the press, it is difficult to understand that in Ukraine to kill and this is our reality. He to anything illegal was called, he just had an opinion. Remember, often the refrain of his articles was the phrase "Hear me!". Unfortunately, not only heard, but also that he could not speak, killed. Those who organized it, and truly know not what they do.
– You asked these questions to representatives of the investigation?
From the very beginning of the investigation I had contact with representatives of the investigative group from the Prosecutor's office. About six months I was notified about the ongoing action, the investigation showed some of the materials. I've seen interest from law enforcement and not even the thought that later I will have to use the services of lawyers to defend justice.
Remember, I even took the Prosecutor of Kiev. He asked me not to worry, reassured and guaranteed that the line will be drawn. I believed. No question his professionalism or standards of communication, and I have not been.
But one day everything changed dramatically, and began the strange steps. It is unclear why the case was sent for investigation in Odessa, began to experience some delays, pauses and non-verbals… After the appointment of Yuriy Lutsenko to the post of attorney General, I was genuinely pleased and was hoping he could help me.
– Helped?
— I wanted to go to Yuri Vitalievich at the reception. I thought that since he himself suffered in life, now justice will relate to the troubles of other people. I made an appointment, but when came the appointed time — the attorney General I was on the list jumped, and took all those who were joined to it later me. Using the name "Elder" Yury Vitalyevich crossed. I must admit, I was very worried about this. But Yury Vitalyevich's sons beside him, close. But to understand my grief, perhaps, may be the only one who will survive such a tragedy.
– Have you had contact with representatives of the suspects in the murder of his son?
— I spoke with the mothers of these boys, it was a calm conversation. And guys — Andrew Medvedko I'm a little knew to this whole thing. He led social activities in our area. On the courts, he denied his guilt. Even when he went into the cage, so straight and told me: "Mom Olesya, I'm your son did not kill." But the questions still remain — after all, it turned out that actually Medvedko was an employee of the Ministry of interior, he conducted secret surveillance, and in the case of this fact and the results of the monitor — nothing. But the fact is such, want to convey to the court that raises questions.
– Related to this is preparing your complaint against Ukraine in the ECHR?
In particular, but I want to clarify — not Ukraine killed my son, and not people which can not be forgiven. Everything that happens with the investigation of the case, just forces me to keep fighting. Though crawling, but I'll get there. I don't ask much, I just want to know who ordered the murder of my son. Why did they have to track him down? Who gave these orders? To forgive these people I can never. And no bans on the discussion of this topic, as trying to make the same film dedicated to the memory Olesya, my will not to overcome. I am sure that the ideas voiced by the son, topical for Ukraine. He foresaw much of what happens to us. It is difficult to say what would have been his life today. I wish he just wrote its easy, simple, understandable style.
– Which of the texts from the pen of a son, and your dearest?
— I think his main book, he never managed to write. He promised his grandmother (my mother), I would write about our family. Because we have a difficult destiny of my grandfather in his time was accused of having links with the Union of liberation of Ukraine, and nearly five years was sent into exile. In 1989 he was rehabilitated, then denounced, he had to endure tremendous hardships. But he survived and returned to the family, I thought that after that, our family have all suffered. Unfortunately, his great-grandson in modern independent Ukraine has killed unprincipled. And I will never hear his traditional greeting: "Mom, you look very pretty today"…
Comments
comments