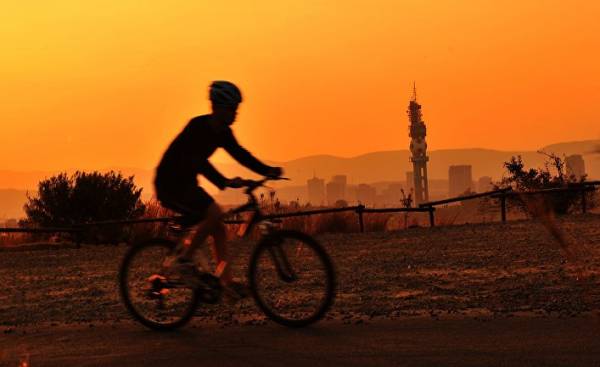 25-year-old Fredrik Ek (Fredrika Ek) is experiencing the adventure, which many can only dream of. For more than two years, she makes a world tour on a Bicycle.
However, she collected almost half a million crowns to charity.
"If everything goes right, I'll dokucu to finish this December and will hold their loved ones in recent years that I was not," says Fredrik Ek.
In March 2015, she jumped in the bike saddle at home, in Sundsvall, and went. Since then, Fredrik Ek managed to travel 32 countries in Europe, Asia, Oceania and South America — a total of 4 thousand miles.
Made it..! Every last cell of my body is absolutely drained & I have nothing left except a feeling of gratitude beyond words. __ This experience is running with a whole new intensity, on more levels than I ever thought possible. I promise to try & share it with you all. Soon. __ First though, I got to eat. And 2nd — go & pass out. Cheers friends! ?❤??
Meeting with Expressen is the capital of Ecuador, Quito, where Fredrik rests and treats prolonged colds.
"This adventure came from a combination of boundless joy that I feel, discovering something new, and desire to test themselves, to expand their borders. I've always liked challenges — both physical and mental, and my curiosity to the world and people knows no bounds. A Bicycle tour allows you time to get what I'm looking for," says Fredrik Ek.
Crossed deserts, climbed over mountains
On the bike she managed to get to such areas, which would otherwise be inaccessible, for example, to the deserts of Turkmenistan or the mountain passes of Tibet. She twisted pedals and under the snow, under the scorching sun.
Fredrik was averaging eight miles a day.
"And then come across other cyclists and travelers, and we're going together for a couple of days or weeks. But I think about 90% of the way I came alone."
Five favorite parts of the journey
Inland areas of Australia.
High plateau of Tibet (along the border on the Chinese side).
The Andes in Peru, Chile and Argentina.
Iran and Central Asia — a wonderful combination of culture and nature.
Austria — a high level of simple Cycling for long distances.
Iran is one of the pearls
From the diversity of the experience of this journey it is difficult to choose the best of the best. Perhaps, the strongest impression she made the people she met in Iran.
"I readily believed it at the border, but the inconceivable friendliness of this country, which I happened to experience one of the strongest impressions in my life."
Will cross Africa and Europe
On the website The bike ramble, you can follow the journey of Fredrika in real-time. According to the site, it is still a decent chunk of the way before she comes home in Sundsvall. Tomorrow she'll get on a plane to Togo in West Africa. Her plan to cross the Sahara desert in Morocco take the ferry to Europe. From Spain she will go on the bike to Sweden. If all goes according to plan, then in December she will be home.
Flight ticket to Togo is booked — & on Friday I'm taking off! ??Flipping through photos & feel so so grateful for the memories South America has given me. Those 2 weeks along the Pircas Negras/San Fransisco route possibly being the biggest one of all ?
"I really want to go home again to hug all my family and friends. But perhaps I'll do anything not to go back to "regular" old life, when I'm home."
Money for charity
Fredrik Ek long dreamed of a long bike trip, but not just for herself. From the outset, it raises money for the charity Actionaid (an international organisation that fights poverty, injustice and discrimination in the world — approx. ed.).
At the moment it has extracted nearly half a million crowns.
"While I am pedaling, the money continues to flow. The thought of it at times was my strongest motivation to continue the journey," says Fredrik Ek.
Comments
comments