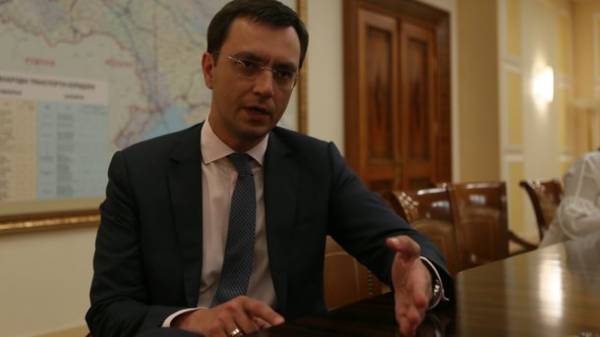 The first part of the interview here: Vladimir Omelian: "Flight to Europe should cost 10 to 30 euros"
— What airports need to develop now first?
— In Ukraine, only two airports have a standard runway (runway). It Borispol and Lviv. There is a long-haul lanes, with a quality finish, good navigation. And we need to fix the stripes and at other airports. There are programs for regional development 19 airports. Once these lanes are owned by the state, must be state investment. And it's not such big money.
Every airport requires 100-300 million UAH of investments. Is that enough runway is suitable for medium-haul aircraft. If we are talking about the runway in Borispol and Lviv, you need 1-3 billion. Such a strip, it is desirable to do in Odessa and Kharkov. If the quality of the runway, begin the airports, will the development of air travel because it will be possible to attract private investment for the construction of the terminal with food, shopping.
— If you can knock out the funding for the construction of new runways already in 2018, for which regional airports will take over?
— It's nice that the city authorities do not expect and are looking for funds for these projects. We have an urgent issue of the airport "Dnipro", which is in private hands. The trial run troubles. Here, the owner brought the market to monopolize, which led to lack of competition, high prices on flights. As for Ivano-Frankivsk, he is also in private ownership. Other airports will be a priority for Nikolaev, Kherson, Chernivtsi, Vinnitsa.
The problem with most regional airports is that they were built under military aircraft — fighter jets up to 20 tons weight. A modern medium-haul Airliners weigh 50-70 tons. And that's another load on the runway.
In General, now the number one problem is to decide the condition of our runway. There is an acute issue and as air navigation equipment because we are talking about safety. But all of these tasks we can eventually accomplish.
You touched on the subject of low-cost airlines. Which companies and new routes may appear before the end of the year?
— The Ministry's position was clear: the market of air travel needs to be competition, tickets should be available. How it works throughout Europe, throughout the civilized world. The Ministry is guided by the interests of some people — passengers. To this end, we conducted long negotiations with the largest and cheapest carrier in Europe, Ryanair.
Yes, this company takes a hard bargaining position, but this is business European. Lviv airport successfully negotiated and signed an agreement with Ryanair, moreover, the Director of the airport did everything possible to Ryanair flew from Lviv in September and not in November as planned. The airport has maintained favorable conditions for themselves, offering the airline's average prices. In this case, won it all: passengers, airport and airline. It is called simply: if you want to — really.
But Kiev was enchanted place. The management of the airport "Borispol" has done everything to Ryanair left: dragging out the negotiations, disclose the commercial terms, the result sent to Dublin for such an option contract that Ryanair has considered it impossible to sign.
The arguments of the Director of the airport one-sided: calculated losses in case of MAU because of the arrival of Ryanair will lose its market share. But not calculated to profit the airport from the increase in passenger traffic, including non-aviation. Not calculated the loss of the airport in Lviv because of the failure of the contract. And how do you measure the loss of image of the country as a whole? On international conference calls "Invest in Ukraine" can be forgotten. Investors do not like such attitude, as shown in "Borispol".
Prime Minister of Ukraine said that the negotiations with Ryanair you want to resume. I personally hope that Ukraine will preserve its face in this situation and that the situation with Ryanair will be resolved successfully. There's still a chance. Ryanair should be in Ukraine.
— What will happen to the budget segment of the airline if Ryanair still does not go down?
— Ryanair, don't even go to the market of Ukraine, began to provide a positive influence. Several airlines have developed special offers that provide tickets at affordable prices. This happened because the airlines understand that the competition will be serious. And that's good. Now all the players will be looking for a successful business model, as competition from low-cost airlines is better to rely on small margins but high turnover, so the good work is provided. And the competition is inevitable in any case.
With the arrival of Ryanair, many companies had to revise their pricing policies. And it is good in the first place — for the passenger. We are not rich enough to buy expensive tickets. Paradoxically, the Europeans with an income of 3-5 thousand euros per month are traveling for 10-30 euros. The Ukrainians, having a much more modest income are forced to buy plane tickets for 200-300 euros. That is why we almost preserved in the country, a little travel, see, compare. Will travel, to bring to Ukraine the European, international experience, Outlook, values, the faster will change the country.
Ticket prices will be reduced anyway. Protectionism, which is now engaged in "Boryspil", is detrimental to the airport. Still go to Ukraine and will enter the low-cost companies, their impact on the market inevitably. Ryanair would change the situation dramatically, that is why the "Borispol" has done everything in order not to let.
Sure, if the price of the ticket will decrease, and Europeans will fly to us. There is a good example. As soon as in 2017 we made roads in the Carpathians, Bukovel Lamborghini arrived with the British rooms.
— And our toinfrastructure ready to welcome the Europeans?
— This year we held meetings with colleagues from the Ministry of health, Ministry of culture, the Ministry of education launched a so-called top 20. Jointly selected the top 20 schools, hospitals, and tourist sites. Until the end of the year should go to make the roads, if there is funding. And as a result, these top 20 plus will be able to see tourists if you arrive to Kiev, and then get there by car. You'll see, as soon as there will be roads made, entrepreneurs will build hotels and restaurants, will be given a boost to green tourism. An example of this was Vilkovo — the Ukrainian Venice. Only there did the road, and once there, tourists, opened restaurants, and before arrived there mostly by boat.
— Took advantage of you or your family with bezveza?
— I bezviz have not tested it because I have a service biometric passport. And in private trips was an ordinary travel visa. But I want to do the biometrics. And when you try, share your impressions. But those friends who have already used bezveza trips, happy. As one colleague: when sat in France, Ukrainians are quickly and quietly passed passport control, only one MP searched.
— What eurograde recommend Ukrainians to visit and why?
— My ancestors the Italians are very fond of Rome. It is a city where you can be dozens of times, although there were a couple of times, but every time there is something to see and get a lot of vivid impressions. Very beautiful Florence, interesting Scandinavia. The main thing — to travel.
Understand the crisis in Ukraine, and few can afford to travel. But every day I see a queue for the biometric passports, it means that people want to see the world. And really, you can go to locoste, live in the hostel, but 2-3 days to spend in the EU. It is important to travel and take their children with them. You have to understand that if Ukrainians live in rural areas without roads, Sewerage and electricity, this does not mean that the way the world lives. It is necessary to see how Europe lives and it will change our country for the better.
Comments
comments