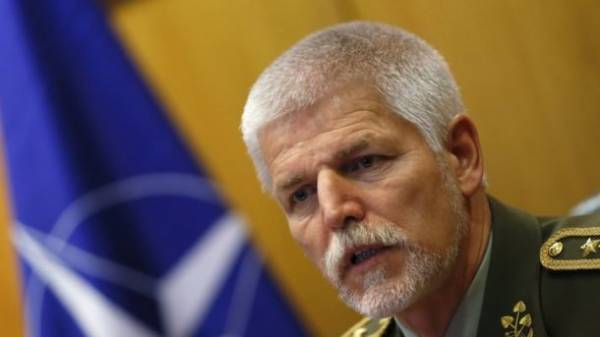 The Chairman of the NATO Military Committee General Peter Paul points out that the military policy of the Alliance towards the Russian Federation to support the dialogue not yield the desired result, according to the Department of public relations of the Armed forces of Ukraine.
"The military policy of NATO against Russia is based on two pillars. The first is defense and deterrence. The second is the efforts to support dialogue. If in the first sphere we achieve success, it is clear that our efforts do not produce the desired result," Paul said during a meeting with chief of the General staff of the Armed forces of Ukraine Viktor Muzhenko Monday in Kiev.
The Chairman of the NATO Military Committee noted that the policy of the North Atlantic Alliance in the military sphere is actively changing.
"We focus not on the number of troops, but their multinationality, determination and the ability to quickly build up its military presence," said Paul.
He added that the practical implementation of such a policy is to deploy in the Baltic States and in Poland, leading multinational groups of the Alliance.
The Chairman of the NATO Military Committee also gave a high assessment to the work on reforming and development of Ukraine: "Deserves respect the way that the Armed forces of Ukraine overcame the last three years. Transformation, by which you pass, is impressive, despite the fact that reforms go in parallel with the maintenance of the constant fighting in the East."
In turn Muzhenko noted that 20 years of distinctive partnership between Ukraine and NATO were years of constant development and improvement of forms of cooperation, which allowed Ukraine to find the most optimal direction for the qualitative transformation of the national Armed forces.
"We appreciate the support and solidarity that we feel in these difficult times by NATO, all 29 countries. The fact that a representative delegation of the North Atlantic Council is visiting our country with a visit on the occasion of the 20th anniversary of the signing of the Charter on a distinctive partnership, suggests that we are mutually interested in the continuation of the movement towards each other," said nachgenshtaba APU.
Comments
comments