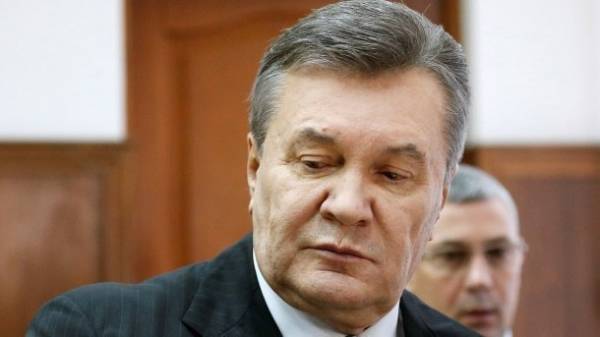 The former President of Ukraine Viktor Yanukovych stated that in case of his return to Kiev, he will give a life sentence. He said this on air of TV channel Rossiya24, reports "RIA Novosti".
He is sure that in Ukraine he did good "does not Shine".
"The Prosecutor General (Yury Lutsenko. – Ed.) in fact, already called the date of the end of the trial – 24 August 2017, and that a decision will be made about my life in prison", — said Yanukovych.
Recall, June 29 Obolon district court of Kyiv has given approval for the conduct of judicial proceedings especially in the case of treason, ex-President Viktor Yanukovych.
5 Jul ex-the guarantor announced that it does not wish to participate in the initiated in Ukraine trial on charges of treason and withdraws from court with his lawyers.
As you know, 14 March the Military Prosecutor's office sent to court indictment against Yanukovych. According to the PGO, he is suspected of committing crimes under part 1 of article 111 ("high treason"), part 5 article 27, part 3 of article 110 ("Complicity in deliberate acts committed with the aim of changing the boundaries of the territory and the state border of Ukraine") and part 5 article 27, part 2 of article 437 ("complicity in the waging of aggressive war") the criminal code of Ukraine.
In addition, the Russian occupation of Crimea, which contributed to Yanukovych, Ukraine caused damage amounting to almost two trillion hryvnia.
Comments
comments