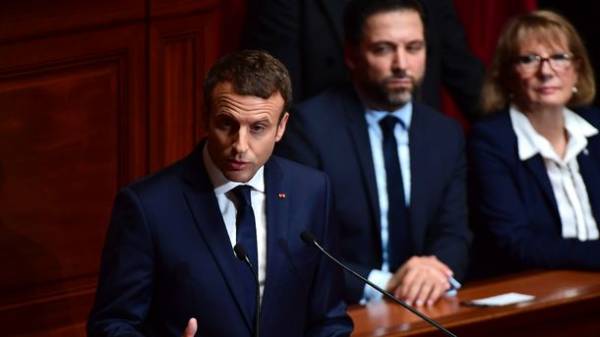 The President of France Emmanuel Makron is planning a third to reduce the number of deputies of the French Parliament and limit the number of times that they can be elected in a row. It was announced on Monday, July 3, speaking at Versailles to parliamentarians of both houses.
According to Macron, this will have a positive impact "on the overall quality of parliamentary work". In addition, the President of France intends to reform its electoral law. Now the country is used the majority system, and the macron stands for the addition of elements of a proportional system. In his opinion, it would give small parties more chances in the elections and ensure a "more equitable representation of all currents" in the Parliament.
To carry out this reform will need the approval of Parliament. Macron has promised to hold a national referendum, if he fails to enlist the support of MPs.
Currently in the upper house, the Senate of France, 348 parliamentarians in the lower National Assembly – 577 members.
Macron has promised to lift the state of emergency in the country this fall. "Canceling the fall emergency, I will restore freedom of the French people, because these freedom – a prerequisite for the existence of a strong democracy," said the French President.
The state of emergency was imposed after the attacks in Paris in November 2015, and then extended four times. Among other things, it allows police to conduct searches in houses and apartments without appropriate judicial orders, and also to restrict the freedom of movement of citizens in a simplified manner to place suspects under house arrest. Opponents of the emergency measures consider that it does not bring the desired effect and infringe upon personal freedoms.
Recall, the macron, the German Chancellor Angela Merkel and Russian President Vladimir Putin on 8 July in Hamburg in the format of a working Breakfast to discuss the situation in Ukraine.
Comments
comments