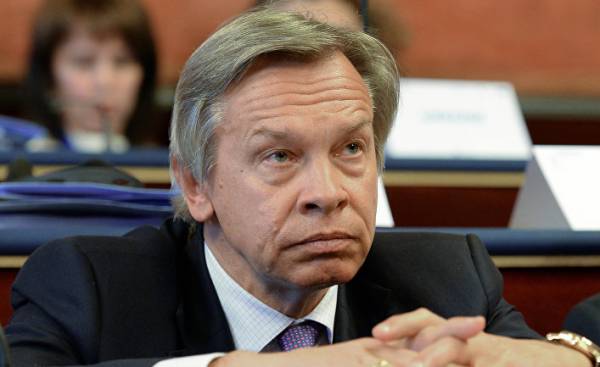 Sweden and Finland should ask NATO to stop the activity near the Russian borders in the Baltic sea. Otherwise, Russia will continue to retaliate. So said Alexei Pushkov, Chairman of Russian Council of Federation on the information policy and interaction with mass media, the newspaper Hufvudstadsbladet. Pushkov — one of the main infantry of Putin in social networks with several hundred thousand followers on Twitter.
Alexei Pushkov takes in his office on the 24th floor. The office is located in the city center on Noviy Arbat street in the building in Soviet times owned by Russian Federation Council. Moscow is breathtaking.
A large table sits the Chairman of the Commission of the Russian Federation Council's information policy. Previously, he was Chairman of the state Duma Committee on international Affairs. But first and foremost he is one of the most popular Russian politicians on Twitter. He has more than 221 thousand subscribers, and in a few years he became one of the most important Marines of Putin in social networks — a person who promotes the policy of Putin among Russians.
The gun doesn't just protect. He prefers to attack. The us Congress is obsessed with "demons of destruction", USA — "psychosis", Ukraine — "the eternal whiner", and East Germany was "ripe Apple, which Since took over from the gardener's Gorbachev".
The fact that the gun is now one of the most cited on the Internet Russian politicians, forced opposition leader Alexei Navalny to blame Russian search engine "Yandex" in promoting it.
"Navalny believes that everyone should write only about him. But in the world there are much more important things. I do not use official means to speak out, doing this the Kremlin and the Ministry of foreign Affairs. I formulate their own thoughts in a form which I like myself," says Pushkov.
Hufvudstadsbladet: Your tweets are often categorical. Don't you think this complicates the dialogue?
Alexei Pushkov: You know, I'm not one of the disciples of Leo Tolstoy. Tolstoy believed that people should not fight back if attacked. This is a very good idea on an individual level. But it doesn't work in international politics.
He suddenly laughs and continues:
— In international politics, everything is decided by something else — national interests. The balance of power. De Gaulle called state of selfish monster. If he's right, it is impossible to engage in such foreign policy, where you constantly only make concessions. If someone speaks to you in the language of the cold war, fail to respond to some other language.
But why a country like Russia, with all its talented people, can't mind my own business? Why do you have to go to Ukraine and Syria? You have a lot of unresolved issues in their own country.
— And you can then answer me why the US with all of their talented people have to interfere in the Affairs of other countries around the world? Why do they need 90 thousand soldiers in Japan? 35 thousand soldiers in South Korea? Now they build seven bases in Afghanistan. Why this talented country everywhere?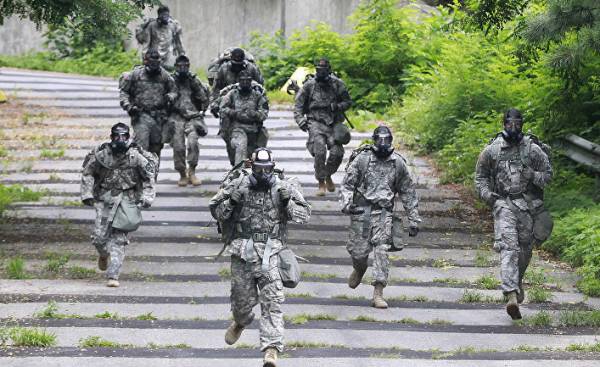 © AP Photo, Young-Koporskaya chemical battalion of the U.S. army in a military camp in South Korea
We in Syria not because we consider ourselves a great power. ISIS (a terrorist organization banned in Russia — approx. ed.) poses a direct threat to us, a concrete, not an abstract danger. Before the rise of ISIS Islamist terrorist attacks in Europe were not, they started after ISIS proclaimed a Caliphate. This became sources of inspiration for the radical elements in Europe. To us in Russia every year come to work 3.5 million people from Central Asia. If there will be a radicalization, it will be very dangerous for us.
— If the state is really a selfish monster, so we need a world in which decides the strongest?
Is constantly trying to prove to our American friends.
— Russia is also trying to prove it.
— Russia kept out of the game for 15 years. We had not seen and not heard. Would the world be better? In 1999 bombed Serbia and gave Kosovo's independence. We have done nothing. Then NATO started to get closer to our borders. First through Poland, Hungary and the Czech Republic, then Estonia, Latvia and Lithuania.
— Supporters of accession of Sweden and Finland into NATO get evidence of his innocence, for example, when Russian aircraft flying a few meters away from the Swedish aircraft or violate Finnish airspace. Why Russia itself works, so that just reinforces this process of movement towards NATO?
— As far as I know, neither the Swedish nor the Finnish government does not consider that it is necessary to join NATO.
— So far, but the dynamics in the discussions on NATO in recent years has changed.
— Dynamics suggests something else: that NATO develops its infrastructure and deploy troops in Russia's neighboring countries. How can we not pay attention to it?
— In that case do Russian aircraft in Finnish airspace?
— It was in a period of growth stresses. Finnish soldiers participated in NATO exercises, including large-scale maneuvers, during which it was assumed that the enemy came from countries in the South-East and occupied Estonia. I wonder which country they mean? Therefore, there has been some response. Now this is not happening. The presidents of Russia and Finland discussed the incident, and he's exhausted.
But I was concerned about another thing, namely, why is NATO constantly sends its fleet to areas near Kaliningrad. What they want to achieve? To scare us? We will not be bullied.
— A Russian plane that recently flew very close to Swedish?
— I have not heard anything. But I've heard that the Swedes are constantly looking for Russian submarines, and indeed found one wrecked in 1914 or 1916.
— So you really heard nothing about the incident when a Russian plane flew very close to Swedish?
— No. But when these things happen, usually both sides are blaming each other. We need a situation in which such incidents do not occur. NATO became very actively behave in the Baltic sea, especially on our shores. This leads to some demonstrative behaviour from the Russian side. The situation is unhealthy, and we must end it. NATO should restrict its activities to the North of the Baltic sea. Then everything will calm down.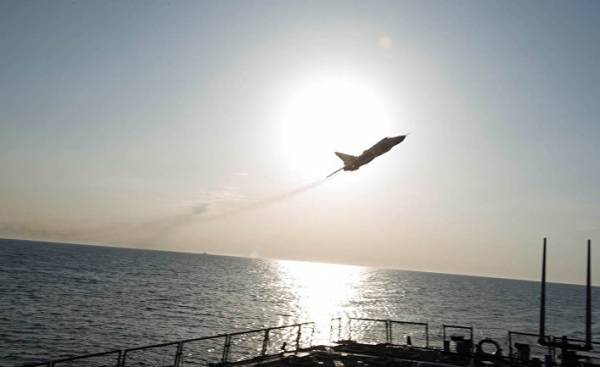 © AP Photo, U. S. NavyСу-24 passes near the destroyer USS Donald Cook
Despite the Russian support to Trump, relations between Moscow and Washington have not improved since he became President of the United States. On the contrary, they worsened. But the gun continues to believe in trump as a person.
— Trump has not made any hostile statements towards Russia since he was elected. But he is constantly forced to act according to pre-written, hostile to the Russian scenario, which is also a part of his own administration. This makes it a very lonely President. In the current situation of our relationship is almost nothing left. The us Congress and Senate are destroying everything that helped us to end the cold war. Therefore, I believe that they are possessed by a demon of destruction.
Cannon smiles.
— Of course, I speak figuratively. But it would be nice to find an exorcist, which would reduce the influence of the devil in the corridors of power.
Alexei Pushkov
Place of birth — China. Cannon grew up in the Soviet diplomatic family. Then he was educated diplomat from 1988 to 1991 including was busy writing speeches for Mikhail Gorbachev. From 1993 to 2000, he was on the editorial Board of Foreign Policy. In 1998 the TV program on foreign policy, "PostScript" on TVC channel.
In 2011 he was elected to the State Duma from Putin's party "United Russia".
Since 2012, he headed the Russian delegation in the parliamentary Assembly of the Council of Europe (PACE), while in Russia it is still included. In 2015 Russia is no longer involved in the PACE as in 2014, the country was deprived of voting rights in connection with the annexation of Crimea.
In 2016 elected to the Russian Federation Council.
In 2014 included in the sanctions lists of the USA and Ukraine, after he supported the annexation of Crimea.
Comments
comments