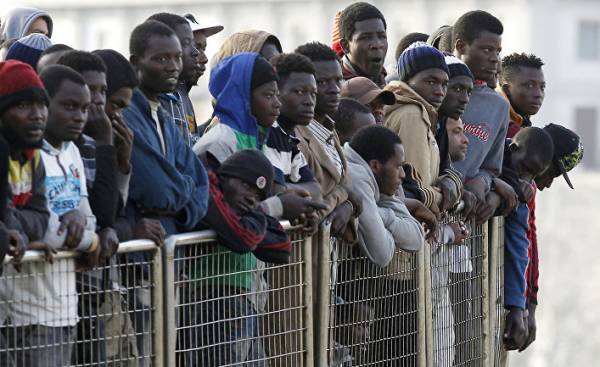 Last week, Europe is once again faced with a nightmare of terror.
Oussama Zaria (Oussama Zariouh) entered the building of the Brussels Central station with a suitcase full of explosives and nails. 36-the summer man found a group of people standing close to each other. She stood beside him.
Then he shouted "Allah Akbar" and detonated the bomb.
Aftenposten analyzed 30 attacks of Islamists committed from January 2015. The conclusion is that many of the terrorists either come from the three countries in North Africa or their family associated with them.
Oussama Zaria from Morocco. His country topped the list, followed by Algeria and Tunisia. For comparison it is worth saying that the Middle East countries in this list are presented.
Four out of five immigrants from North African countries
The charge that Zaria was carried to the station in Brussels, not really exploded. And the terrorist was shot and killed by police officers patrolling the station building. People who were at the station, managed to flee to shelter. Only the victims this time was the Moroccan.
But such Islamists as ussama Zaria, are behind a large number of terrorist acts in Europe in the last three years. Here are the key points of our investigation, which addresses the attacks, since the attack on Charlie Hebdo in Paris in January 2015 and ending with the most recent:
• 48 criminals have carried out at least 30 small and large attacks.
• In total they have killed 338 people.
• Families with 37 of these terrorists have their roots in North Africa.
• 33 the perpetrator comes from these three countries, 16 of them have roots in Morocco, 10 in Algeria and 7 in Tunisia.
• Immigrants from North Africa are also dominated in the Commission of the largest and most deadly terrorist attacks, including the terrorist attacks in nice, Berlin, Brussels, Paris and Manchester.
• Among the terrorists there are representatives of both first-and second-generation immigrants, the majority has European citizenship.
• Very few terrorists have roots in the countries most affected by terror and war. Only one terrorist is originally from Iraq, one from Afghanistan. Two from Syria.
Why Morocco?
According to our research, there's very little that indicates a relationship between the origin of the criminals and countries in terror.
On the contrary: Morocco is one of those Muslim countries, which, according to Global Terrorism Index, the least susceptible to terror. The country ranks 95th place, it ten positions after Norway. Nigeria and Somalia — African countries which occupy the highest positions on the level of terror, according to the index, but families come from among the families of European terrorists there.
This can be explained in two ways, says Pierre Vermeren (Pierre Vermeren), Professor at the Sorbonne University in Paris and an expert on North African Diaspora in Europe:
First, the countries of North Africa dealt a serious blow to jihadism. This led to the fact that radical Islamists flocked to Europe, where, according to Vermeren were able to act more freely, and where police and authorities are watching them less.
Islamist preachers from Saudi Arabia and the Middle East use it baboutLisa freedom to preach before the North African Muslims.
"Today in Western Europe to be a radical Islamist easier than in many Muslim countries, especially in the Maghreb (the region which includes Morocco, Algeria and Tunisia). It took a long time before Western society came the danger that it means for the population," writes Vermeren in an interview with Aftenposten via e-mail.
Assistance with drug
Second, terrorists live due to the large North African mafia networks, which are run by the supply of marijuana in Europe, explains Vermeren.
"It's a huge industry that ensures the economic security of many North African families and, in addition, gives money to the mosque. Many of these families are extremely religious. This leads to the fact that they are easily susceptible to radicalization because they want to pay God the penalty for their crimes and to get a place in heaven," explains the Professor.
Many point to the mountainous region of RIF (Rif) on the border between Algeria and Morocco as the hub for terror and drugs. So many terrorists in Europe — including, and Oussama Zaria — from there. Live there, the Berbers, which for a long time suppressed and subjected to marginalization.
Because of the criminal networks they gain mobility — regardless of state borders, as well as access to money and weapons. In addition, many of them recruited as foreign fighters in Syria. From there they return, knowing what is fighting and explosives.
"The European intelligence was too focused on the threat from Syria and the Middle East, the threat they notice. Now eyes open," writes Vermeren.
He emphasizes that the networks have established their branches in the UK, Germany and Scandinavia.
The facts: global terrorism index
Morocco is less susceptible to terrorism than Norway, if you believe the Global terrorism index. In the list of Norway on 85-m a place, and Morocco ten lines lower, at 95.
If you believe the list of most terror-prone Iraq. Followed by Afghanistan and Nigeria, Pakistan and Syria.
Yemen, India and Somalia follow on that before two North African countries — Egypt and Libya, which are, respectively, the ninth and tenth places.
Algeria at 42-m, Tunisia — on 35-m a place.
Conflicts new, when the old
Terror researcher and writer Nesser Petter (Petter Nesser) stressed that the North Africans to actively join the old network looking for new partners for cooperation and new contacts.
"All of this comes from systems already established contacts with Europe's long history. They date back to 1990-m to years" — said the researcher from the research Institute of the Norwegian armed forces.
In these networks were more active Algerian and Moroccan recruiters associated with various extremist groups.
The Moroccans were behind the massive terrorist attack in Madrid in 2004 that killed 192 people.
"ISIS (a terrorist organization banned in Russia — approx. ed.) deliberately recruited for attacks abroad North Africans, of these networks. So they could use to carry out a terror existing in Europe structure," says Nasser.
"Using and brainwashing"
Moroccan Professor Mohamed State (Mohamed Chtatou), himself a native of the region of RIF. He was very critical of the fact that European and American experts point to the region of the Reef as the center of global terrorism.
"This is a European problem. These terrorists were born and raised in Europe, but the European countries had rejected and oppressed them. They do not feel at home neither in Europe nor in Morocco, therefore, face a crisis of identity. And become easy prey for radical Islam," says to State in an interview with Aftenposten.
Violence is not part of Moroccan culture, says the Professor. It indicates that radicalization and recruitment of young North Africans in Europe was promoted by imams, extremists from Saudi Arabia and other Middle East countries.
"They are looking for people experiencing problems with identity, which Europeans do not accept. Then they begin to brainwash, claiming that in fact they have a Muslim identity, and that they will be Paradise," says the State.
Europe warned
In Morocco, the extremism suppressed firmly and effectively. Moroccans believe they are the best in the world struggle against radical Islam. In February, the government announced that from September 11, 2001 destroyed 168 terrorist cells.
However, the country klassificeret as a hybrid of democracy and dictatorship in the world is she at 105 out of 167 in the list of democracy index of The Economist Intelligence Unit.
The chief of the Moroccan anti-terrorist police Abdelhak Khiam (Abdelhak Khiame) said this spring that Morocco has repeatedly warned Belgium that they in the country of jihadists. In 2008, the Moroccans reported that one of the districts of Brussels threatens to turn into a real "greenhouse" for terrorists.
Ostensibly, they were warned and Spain, but, according to Khiam, their words not seriously treated.
Comments
comments